Medulloblastoma Market Insights, Epidemiology, and Market Forecast by DelveInsight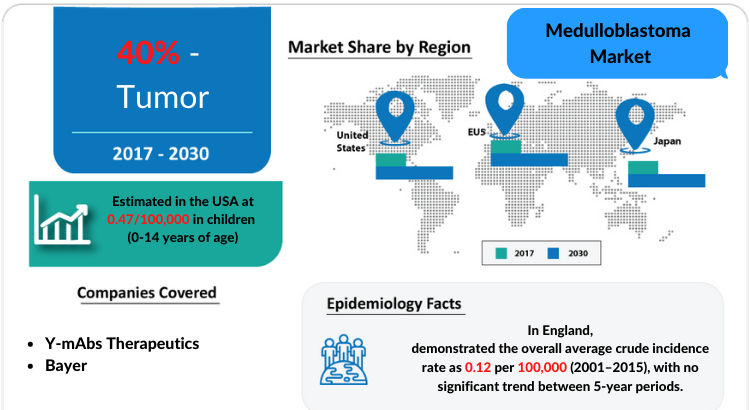 DelveInsight has launched a new report on Medulloblastoma Market
Medulloblastoma is classified as a primitive neuroectodermal tumor, typically occurring in the cerebellar vermis which is located in the posterior fossa of the skull. This tumor accounts for 40% of those arising from the posterior fossa.
Request for free sample copy– https://www.delveinsight.com/sample-request/medulloblastoma-market
The Medulloblastoma Market report provides an edge while developing business strategies, by understanding trends shaping and driving the Medulloblastoma Market
Medulloblastoma Treatment Market
The most effective treatment for Medulloblastoma is a combination of therapies that include surgery, radiation treatment and chemotherapy. Complete surgical removal of the tumor is important and is usually the first step in treatment. This is usually followed by radiation treatment to the entire brain and spine in older patients, followed by several months of chemotherapy. Age and general health, tumor subtype and location, tumor grade and extent, and other factors play a role in treatment decisions.
Medulloblastoma Market Report
Medulloblastoma is diagnosed based upon thorough clinical and neurological evaluation, detection of characteristic symptoms and physical findings, patient history, and specialized diagnostic tests. The main specialized imaging technique used to diagnosis Medulloblastoma is magnetic resonance imaging (MRI) of the brain and spine.
Medulloblastoma Symptoms
The symptoms of medulloblastoma usually result from increased pressure within the skull (intracranial pressure). Many infants and children develop papilledema, a condition in which the optic nerve swells because of increased intracranial pressure. Additional symptoms may include irritability, increased head size, and paralysis (paresis) of the muscles that help control eye movements (extraocular muscles).
Medulloblastoma Market Disease
Initially, patients need to be checked for increased intracranial pressure, which if present, needs to be controlled either by medication (e.g. steroids) or by neurosurgical drainage (e.g. external drainage). The postoperative treatment depends on age, histological and molecular subgroup, and result of staging assessments (cranial and spinal MRI, assessment of lumbar cerebrospinal fluid if lumbar puncture is not contraindicated). In children older than 3-5 years, combinations of chemotherapy and craniospinal irradiation are applied. In younger children, brain sparing
Medulloblastoma Market Report Scope
The report covers the descriptive overview of Medulloblastoma, explaining its causes, signs and symptoms, pathophysiology, diagnosis and currently available therapies
Comprehensive insight has been provided into the Medulloblastoma epidemiology and treatment in the 7MM
Additionally, an all-inclusive account of both the current and emerging therapies for Medulloblastoma are provided, along with the assessment of new therapies, which will have an impact on the current treatment landscape
A detailed review of Medulloblastoma market; historical and forecasted is included in the report, covering drug outreach in the 7MM
The report provides an edge while developing business strategies, by understanding trends shaping and driving the global Medulloblastoma market
Request for free sample copy– https://www.delveinsight.com/sample-request/medulloblastoma-market
Table of content
1. Key Insights
2. Executive Summary of Medulloblastoma
3. Competitive Intelligence Analysis for Medulloblastoma
4. Medulloblastoma: Market Overview at a Glance
5. Medulloblastoma: Disease Background and Overview
6. Patient Journey
7. Medulloblastoma Epidemiology and Patient Population
8. Treatment Algorithm, Current Treatment, and Medical Practices
9. Unmet Needs
10. Key Endpoints of Medulloblastoma Treatment
11. Marketed Products
12. Emerging Therapies
13. Medulloblastoma: Seven Major Market Analysis
14. Attribute analysis
15. 7MM: Market Outlook
16. Access and Reimbursement Overview of Medulloblastoma
17. KOL Views
18. Market Drivers
19. Market Barriers
20. Appendix
21. DelveInsight Capabilities
22. Disclaimer
23. About DelveInsight
Reasons to buy
The report will help in developing business strategies by understanding trends shaping and driving the Medulloblastoma market
To understand the future market competition in the Medulloblastoma market and Insightful review of the key market drivers and barriers
Organize sales and marketing efforts by identifying the best opportunities for Medulloblastoma in the US, Europe (Germany, Spain, Italy, France, and the United Kingdom) and Japan
Identification of strong upcoming players in the market will help in devising strategies that will help in getting ahead of competitors
Organize sales and marketing efforts by identifying the best opportunities for Medulloblastoma market
To understand the future market competition in the Medulloblastoma market
Related Reports
Media Contact
Company Name: DelveInsight Business Research LLP
Contact Person: Yash Bhardwaj
Email: Send Email
Phone: +919650213330
Address:304 S. Jones Blvd #2432
City: Las Vegas
State: NV
Country: United States
Website: https://www.delveinsight.com/