Affordable Online On-Demand Film School Announced by NancyFultonMeetups.com
Hollywood, California – Prolific writer/producer Nancy Fulton has launched an affordable online on-demand film school at www.nancyfultonmeetups.com to support new producers nationwide. It offers 90+ recorded workshops covering all aspects of indie film production and live online events featuring industry experts.
Find full details at www.nancyfultonmeetups.com.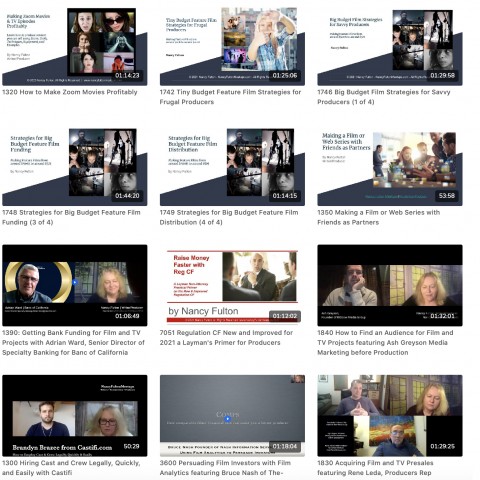 New filmmakers nationwide seeking insight in how to develop, fund, produce, and distribute their projects have a new affordable resource in the online training site supported by writer/producer Nancy Fulton at NancyFultonMeetups.com.
She offers both live events and on-demand recorded workshops. Expert speakers cover topics filmmakers must master like:
How to Produce Profitable Micro-Budget Films Swiftly
How to Develop, Fund, Produce, and Get Distribution for High Value Filme
Copyright and Work-for-Hire Fundamentals
Using Film Analytics to Persuade Investors
Identifying Bankable Cast and Crew for Film Projects
Film Production Insurance and Completion Bonds
Acquiring Bank Funding for Film Productions
How to Work with Producer's Reps to Pre-sell Film Rights
Screenplay Acquisition including How to Write a Screenplay & How to Hire Ghostwriters and Screenwriters
Shooting Films on 3D Sets Using the Unreal Engine
Virtual Production and Real Time Animation Fundamentals that Cut Costs and Make Production Faster
Etc.
Speaking about the new affordable filmmakers support solution, Fulton said, "I've been profitably writing, producing, and selling media for decades. Most of my work has been in the field of education and training. Since 2015 I've been offering meetups to thousands featuring expert guests and practical instruction in the art and science of producing and monetizing film and episodic content. I've produced hundreds of hours of content. It is clear to me that people producing media these days come from every city in the US, every walk of life, and are every age."
She adds, "The film market is very diverse these days, so producer objectives vary from wanting to produce documentaries, to wanting to produce feature films, to wanting to make episodic shorts and educational resources. My training is designed to allow people to learn exactly what they need to know when they need to know it. I help people master immediately applicable skills in 60-90 minute chunks because I find this accelerates the speed with which they can apply what they learn to the projects they are actively producing."
She ends, "Affordability is key. I have thousands of folks attending my workshops and accessing my library of resources because they aren't spending hundreds of dollars they don't have to get in. Prices range from $5 to $25 for individual workshops, and an all-access annual pass costs less than most producers spend on coffee in a single month. There are no grades, no certifications, just education."
For information on upcoming events and access to the in-depth library of recorded workshops, visit ww.nancyfultonmeetups.com.
About Nancy Fulton Meetups
Nancy Fulton has been running several online and face-to-face workshops for producers, authors, screenwriters, performers, and experts selling services since 2015. She has 50,000+ followers and an extensive library of in-depth training resources available at:
Media Contact
Company Name: NO BETTER FRIEND ENTERTAINMENT LLC
Contact Person: Nancy Fulton
Email: Send Email
Country: United States
Website: http://www.nancyfultonmeetups.com/