Sequential Automated Turning System Officially Goes Live On Indiegogo
Certified nurse, Ryan Speidel, launches an Indiegogo campaign for the Automated Staff Member for Patient Repositioning, a revolutionary healthcare product for inpatient hospital units
The team of forward-thinking providers of healthcare solutions, led by Ryan Speidel, a trained nurse with more than two decades of experience, recently launched a crowdfunding campaign for their groundbreaking Automated Staff Member for Patient Repositioning. The equipment is particularly suited for facilities that are not adequately staffed, helping to automatically turn and reposition immobile patients to avoid pressure ulcers. The Indiegogo campaign aims to raise $100,000 to support the production and distribution of the patient repositioner, ultimately helping more people across the globe to get the best possible healthcare service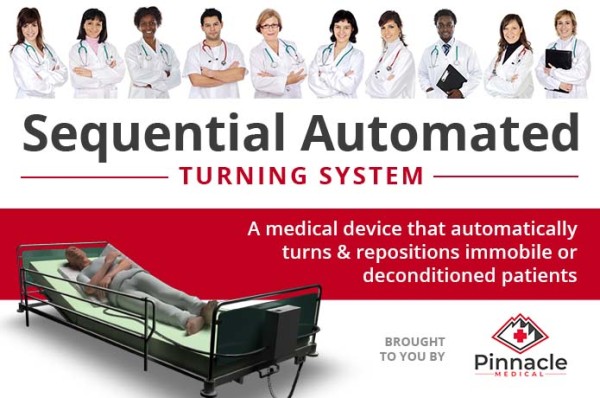 One of the major challenges faced by thousands of medical facilities in different parts of the world is inadequate personnel, a phenomenon that can be detrimental to millions of patients worldwide. The case is even more worrisome for immobile patients, which is where Ryan Speidel and his team are looking to make a difference with the Automated Staff Member for Patient Repositioning.
The device is designed as an all-inclusive, one-of-a-kind patient repositioner that can be used by any healthcare staff and is suitable for all inpatient hospital units, especially ICUs. The equipment comes as a cost-effective solution to facilities, with amazing features that stand it out from similar devices.
The Sequential Automated Turning System is made up of two inflatable, waterproof nylon and PVC wedges to be placed underneath the sides of a supine person. It comes with SAT air pump that allows the selection of automatic repositioning every half-hour, hour, or two hours, the signature feature of the device. Other features of SAT are the unique design of the patient-contact surface of the wedges to minimize any seams touching the patient, easy-to-use straps and plastic clips, to support a single patient up to 600 pounds. The system is user-friendly can be used during the patient's entire stay and on almost any bed surface.
For more information about the Sequential Automated Turning System and to back the campaign, visit Indiegogo.
Media Contact
Company Name: Sequential Automated Turning System
Contact Person: Ryan Speidel
Email: Send Email
Phone: 8434425357
Country: United States
Website: https://www.indiegogo.com/projects/s-a-t-patient-repositioning-system#/reft/25180417/Idea-PR1