Groundbreaking Multitasking Device Tzolkin Smartwatch Launched On Indiegogo
Innovative functional smartwatch, Tzolkin Smartwatch, officially launches on Indiegogo for interested buyers across the globe
Tzolkin Smartwatch has been described as "the world's first fully functional smartwatch," with features that stand it out from its contemporaries. Trademarked by the Mayan white cosmic mirror, the smartwatch was created to help users maximize every space, offering features like front-and-back ergonomic design, hidden retractable speakers, and a Super Mouse on the outside to make more room inside the watch for components, chips, and processors.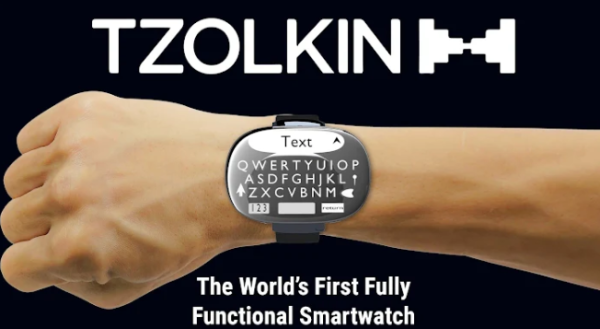 There has been a steady increase in the demand for smart devices in recent times. Consequently, several brands have emerged to meet the growing and diverse needs of consumers. However, the team at Tzolkin, led by the forward-thinking Edy Villeda, seeks to take the experience a notch higher with the launch of their smartwatch.
The Indiegogo crowdfunding campaign for the Tzolkin Smartwatch aims to raise $200,000 for the production and distribution of the device. Tzolkin smartwatch can be described as a smartwatch and more, offering all features needed on a smartwatch, with a more comfortable and accessible design. The device uniquely combines functionality with style, with a keyboard that allows users to check mail, text, as well as other activities, as well as a bonus ergonomic design and private call capability.
Tzolkin is designed to be slightly thinner near the wrist to enable comfortable movement and fit the natural curve of the forearm. Its horizontal screen also ensures comfort for the natural horizontal positioning of the human eye, with a 30% larger size than the ordinary smartwatch screen. Other exciting features of the smartwatch are the Super Mouse complementary accessory and a user-friendly Google Wearables software.
For more information about Tzolkin Smartwatch, to back the crowdfunding campaign and be one of the first users of the device, visit Indiegogo.
Media Contact
Company Name: Tzolkin Smart Watch
Contact Person: Edy Villeda
Email: Send Email
Phone: 9738853557
Country: United States
Website: https://www.indiegogo.com/projects/tzolkin-smart-watch#/reft/25180417/Idea-PR1