Fascy Releases an All-Natural Bubble Bomb Moisturizer on Amazon
October 22, 2021 – Fascy, a leading maker of all-natural cosmetic and beauty products, is pleased to announce that its All-Natural Bubble Bomb Moisturizer is now available for purchase on the Amazon store at a reasonable price. This moisturizer contains a unique formula that keeps the body refreshed, relaxed, and moisturized all day long.
Over time, our skin looks very dry and rough due to its exposure to harsh weather conditions, especially people that are not using a very good cream. Fascy's Bubble Bomb Moisturizer is one such good cream that is carefully crafted with special natural ingredients that are made to nourish the skin. The cream offers long-time hydration and helps restore the protective skin and barriers.
Fascy's Bubble Bomb Moisturizer represents a breakthrough in Skincare, boasting one of the highest amounts of concentrations of active natural ingredients only found in a small selection of luxury skincare beauty products. Also, unlike others, it absorbs into the skin quickly and keeps the skin fresh without any stickiness.
Beauty products from Fascy are renowned for their purity and high concentrations of active ingredients, and the Bubble Bomb Moisturizer can't be exempted. This cream offers long-term moisturization without sacrificing potency, and its price point is a bargain when compared with products from competitors that perform the same function.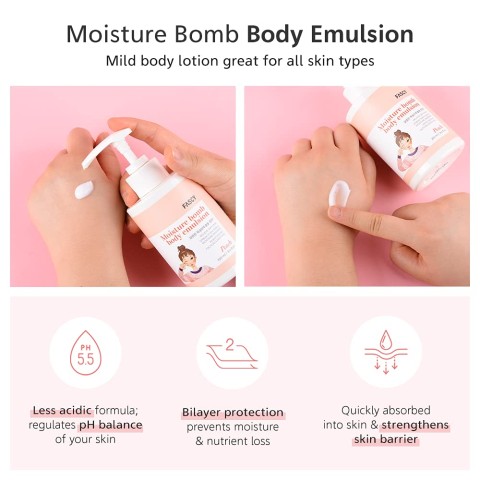 For those that want to keep their body refreshed, relaxed, and moisturized with sweet long-lasting fragrance, Fascy's Bubble Bomb Moisturizer is their best bet. Fascy's Bubble Bomb Moisturizer has a pleasant scent that isn't overpowering and can be used by both men and women. This is not a random moisturizer because a visible difference can be noticed on the skin after using the product.
Fascy's Bubble Bomb Moisturizer is currently available on Amazon with a 100% Customer Satisfaction Warranty to ensure that each purchase is absolutely risk-free.
More information about Fascy's Bubble Bomb Moisturizer can be found on the Amazon product page. Make a purchase before it's out of stock.
About Fascy
Fascy is a privately owned business with a vision to provide organic skin care products and other beauty products which enhance natural beauty. Their product ranges from body care to hand care to hair care and foot care. The company believes in natural products without harmful chemicals, fillers, or artificial ingredients. Fascy only uses the finest quality ingredients sourced from reputable suppliers and their products always undergo the necessary test before being released to the consumers.
Media Contact
Company Name: Fascy
Contact Person: Andy Hong
Email: Send Email
Phone: +82 70-4038 9303
Country: South Korea
Website: www.amazon.com/dp/B07PHMSZWW