IRM is an acronym for "Innovation for Better Healthcare"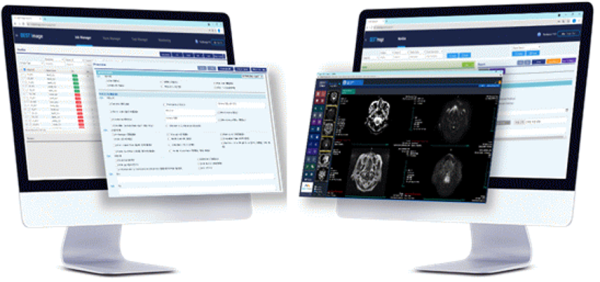 IRM, a company that provides user-tailored medical service on a managing platform which allows various medical data to be saved and transported, is revealing a new multi-center medical image research platform "Best Image."
BEST Image is a cloud-based platform service that provides an environment that allows radiologists or R&D companies participating in multi-center medical image research to easily manage medical images and research data, and (systematically) collect research results.
Best Image was developed in an attempt to overcome the lack of a multi-center research platform service that enables systematic research on medical images. Therefore, a medical image evaluation platform used for medical image research or quality assessment between imaging equipment was developed.
The service collects research data on its cloud, allowing any research participants to access, browse, and utilize the database via a web browser. By integrating the Viewer and CRF which are respectively used for image reading and clinical trials, it allows user to organize research data in various forms. In addition, the customized Report form can quantify the evaluation results of participating researchers.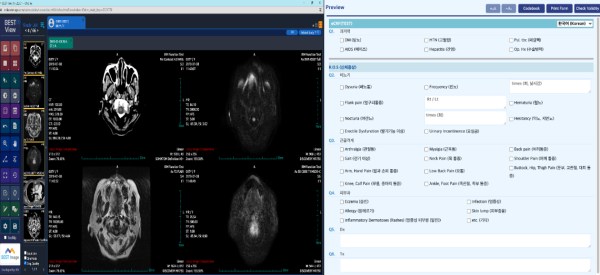 Viewer(Left) and CRF(Right) on Best Image
IRM complies with international medical standards DICOM(Digital Imaging Communication Systems in Medicine) and HL7(Health Level 7) and has been participating in the IHE(Integrating the Healthcare Enterprise) Connectathon since 2015. Bypassing more than 40 profiles in 2021 at IHE Connectathon proves that the company's platform has excellent interoperability with other medical information systems and medical imaging devices. Developed based on interoperability and international medical data standards, BEST Image also provides complete de-identification technology without compromising data.
Many institutes that conduct multi-center research have already adopted BEST Image. We are in contract with a pioneer company in AI technology for medical image analysis to study the effectiveness of AI used by radiologists at five high-end medical institutions. Meanwhile, Medical images and clinical data by diseases from several hospitals in Korea have been collected and integrated into the BEST Image database. Over 20 hospitals are currently using Best Image to manage over 30,000 research cases. IRM is continuously upgrading and sophisticating BEST Image to add and enable various features for users to better assess and analyze images.
Media Contact
Company Name: IRM Inc.
Contact Person: Media Relations
Email: Send Email
Phone: FAX: +82-70-8230-6693, TEL: +82-70-8230-6691
Country: Korea
Website: www.irm.kr