PETBYPET Launches Kickstarter For All-In-One Dog Walk Buddy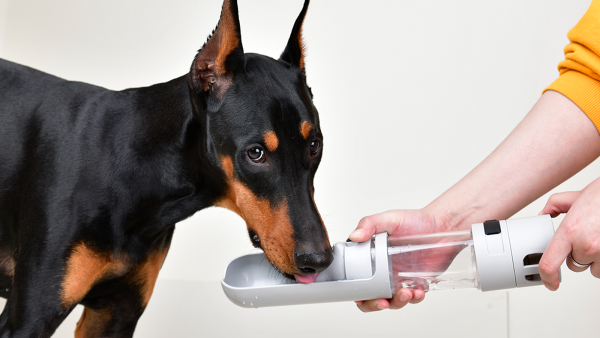 PETBYPET is delighted to announce the launch of a Kickstarter campaign for its all-in-one dog walk buddy named the Slide Dangbler.
The all in one, ultra-convenient, multi-purpose tumbler for dog walks was made as a lightweight and durable alternative to conventional bags which can be messy and sometimes troublesome.
The Slide Dangbler is a single customizable device that features a slide bowl, water bottle, snack compartment, and poop bags bin, made with Polycarbonate and ABS to provide resistance to shock and temperature changes.
This easy-to-use slide bowl allows dog owners to conveniently quench the thirst of their pets on the go, by simply sliding out the bowl and pressing the release button to unlock the water supply.
And in addition to the snack compartment that allows for easy storage and quick access to snacks, the Slide Dangbler spots a poop bags bin that makes cleaning after your pets hassle-free.
"The Slide Dangbler was created by dog lovers who have raised dogs as pets for years. The team has surveyed fellow dog owners on the different pain points in their usage of multiple pet accessories. Beyond the needs of the dog owners, the team's primary focus is to develop intelligently designed products that deliver quality standards of care for our pet companions."
Manufactured in Korea, PETBYPET assures all dog lovers that the Slide Dangbler has gone through multiple prototypes and extensive product testing at its trusted production facilities in Seoul, South Korea. And that it maintains the use of materials proven to be safe for all pets.
PETBYPET was founded by LEE Sung-ho who says he noticed that many dog owners like himself always struggled with conveniently packing essentials for their pets while on walks. This motivated the founder to create the Slide Dangbler as a one size fits all solution to the problem.
Slide Dangbler was successfully funded on Wadiz, and the company is now calling on the help of the Kickstarter community to help bring this amazing product into the lives of more pet owners.
On Kickstarter, the Slide Dangbler is currently available at $19, while the company has set its regular retail price at $26.
For more information, please contact below.
Media Contact
Company Name: PETBYPET
Contact Person: Ryan
Email: Send Email
Country: United States
Website: http://www.kickstarter.com/projects/petbypet/slide-dangbler-the-all-in-one-dog-walk-buddy