Advanced Pancreatic cancer Market | Advanced Pancreatic cancer Market Report 2030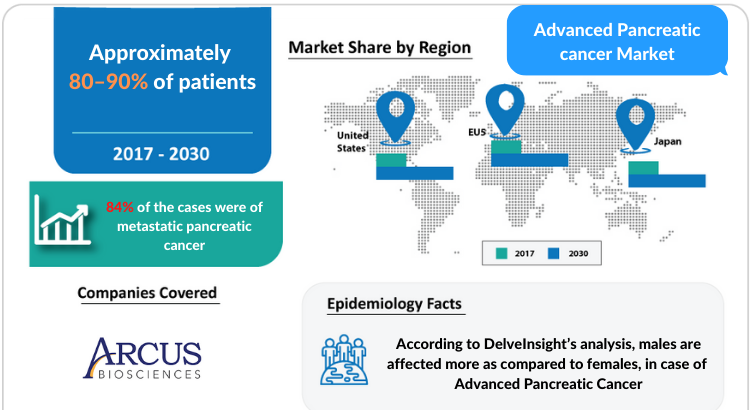 A detailed review of the historical and forecasted Advanced Pancreatic Cancer market is included in the report, covering drug outreach in the 7MM countries. The report provides an edge while developing business strategies, by understanding trends shaping and driving the global Advanced Pancreatic Cancer market.
Advanced Pancreatic cancer Overview
Pancreatic cancer is a disease in which malignant (cancer) cells form in the tissues of the pancreas. It is further categorized into stage I, stage II, stage III, and stage IV. When a tumor has either spread to distant organs or is unresectable, i.e., cannot be removed through surgery, it is called advanced-stage cancer. This is usually stage III or IV cancer.
Download Sample Report- Advanced Pancreatic cancer Market Report
Some of the key highlights of the Advanced Pancreatic Cancer market report
Out of the total selected population, 84% of the cases were of metastatic pancreatic cancer, and 16% of them had locally advanced pancreatic cancer in the United States.
Estimated that 80–90% of patients have an unresectable tumor on diagnosis at an advanced stage in Europe.
According to DelveInsight's analysis, males are affected more as compared to females, in case of Advanced Pancreatic Cancer.
Advanced pancreatic cancer Market Companies
OSI Pharmaceuticals
Eli Lilly
And many others
Advanced pancreatic cancer Market Insights
Pancreatic cancer staging is based on TNM staging, along with the extent of respectability. The most appropriate imaging modality for diagnosis is Computed Tomography (CT), Magnetic resonance imaging (MRI) in addition to PET/CT in special consideration. Advanced pancreatic adenocarcinoma historically has a poor prognosis, and the mortality rate has remained unchanged for over a decade. Standard treatment options for patients with advanced pancreatic cancer include chemo radiation and/or chemotherapy.
Advanced pancreatic cancer Treatment
Currently, the treatment options for pancreatic cancer include surgery, chemotherapy, targeted therapy, and radiation therapy that are given either on their own or in combination. If the cancer is locally metastatic (nearby organs or blood vessels) or is metastasized (spread) to other parts of the body, surgery is not a preferred option for the treatment. Instead, in that case, treatment will focus on relieving symptoms related to jaundice, digestive problems, and pain.
More Information- Advanced Pancreatic Cancer Market Insights
Table of content
1. Key Insights
2. Executive Summary of Advanced Pancreatic Cancer
3. Competitive Intelligence Analysis for Advanced Pancreatic Cancer
4. Advanced Pancreatic Cancer: Market Overview at a Glance
5. Advanced Pancreatic Cancer: Disease Background and Overview
6. Patient Journey
7. Advanced Pancreatic Cancer Epidemiology and Patient Population
8. Treatment Algorithm, Current Treatment, and Medical Practices
9. Unmet Needs
10. Key Endpoints of Advanced Pancreatic Cancer Treatment
11. Marketed Products
12. Emerging Therapies
13. Advanced Pancreatic Cancer: Seven Major Market Analysis
14. Attribute analysis
15. 7MM: Market Outlook
16. Access and Reimbursement Overview of Advanced Pancreatic Cancer
17. KOL Views
18. Market Drivers
19. Market Barriers
20. Appendix
21. DelveInsight Capabilities
22. Disclaimer
23. About DelveInsight
About DelveInsight
DelveInsight is a Business Consulting and Market research company, providing expert business solutions for the life science vertical and offering quintessential advisory services in the areas of R&D, Strategy Formulation, Operations, Competitive Intelligence, Competitive Landscaping, and Mergers & Acquisitions.
Contact Us
Yash
Media Contact
Company Name: DelveInsight Business Research LLP
Contact Person: Yash Bhardwaj
Email: Send Email
Phone: +919650213330
Address:304 S. Jones Blvd #2432
City: Las Vegas
State: NV
Country: United States
Website: https://www.delveinsight.com/