ConciergeNP Launches On-site Healthcare Services Alongside Its Existing Mobile Health Care Services
November 3rd, 2021 – Hallandale, FL – ConciergeNP, a promising and reliable healthcare service provider based in Broward County has announced the launch of her onsite health care center alongside mobile health care services to ensure it serves the people of Broward and Miami-Dade Counties with quality health care services.
ConciergeNP originally started operation on the 14th of July 2020 as a mobile healthcare service provider and takes healthcare to the homebound patients in the privacy of their own home. The healthcare provider understands the challenges patients and their family members undergo when it comes to visiting medical centers, and to mitigate those challenges, ConciergeNP took the bold steps to bring the same quality medical services they would get from the office of any physician without having to leave the comfort of their home.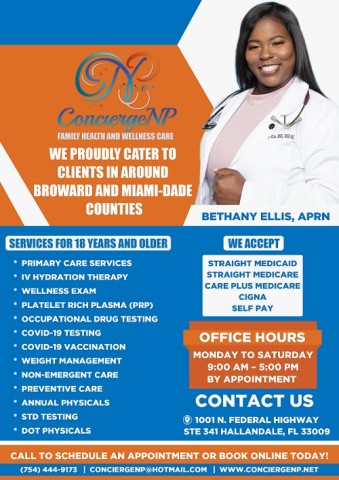 To ensure patients get the best quality health services in the comfort of their home, ConciergeNP is partnered with a couple of other reliable mobile healthcare service providers.
According to Bethany Ellis, APRN the owner and founder of the ConciergeNP, "I also offer patients the option to have IV Vitamin infusions in the comfort of their own home whether it is for a hangover or to simply boost their immunity. I have partnered with a few mobile service providers so that patients could have their labs drawn, ultrasound or x-rays are done in the home as well".
When asked about why she needed to create an onsite office space, since she started originally as a mobile health service provider, here is what she said "ConciergeNP is a growing medical practice, with a vision of establishing and maintaining healthy patient and provider relationships and always keeping the patient first, and to ensure that I needed an office space to provide patients more health care options. I also feel that having no insurance should never stop anyone from seeking medical care, and that's why here at ConciergeNP we have great self-pay options". Talking about the recent activities at her new office "Since, the start of my mobile practice I have now expanded my in-office services to offer annual wellness exams which could include pap smears and blood draws, DOT physicals, occupational drug testing, Covid-19 testing, Covid-19 vaccination, weight management, and PRP treatments for aesthetic enhancement or sexual dysfunction in men and women" She concluded.
During filling this press release, and our research team was about to gather the 3 main health services offered by the ConciergeNP. Here is a list along with a brief about each of the services.
* IV Hydration Therapy or IV Vitamin infusions
IV hydration therapy is a frequent, low-risk treatment used to rehydrate the body intravenously by doctors, nurses, and paramedics. It is the quickest and most efficient means to distribute fluids to key organs throughout the body since it avoids the gut and goes directly into the bloodstream.
* Wellness Exam
Wellness Exam, also known as preventative care. Preventative healthcare aims to keep people healthy and prevent illness. Rather than waiting until you have a health concern, you visit your doctor regularly to maintain excellent health or detect problems early. Wellness checkups are separate from medical appointments for chronic disease management or injuries.
* Platelet Rich Plasma (PRP) for Aesthetics
Doctors have just discovered that the body has the power to cure itself. Platelet-rich plasma therapy is a type of regenerative medicine that can increase the natural growth factors that your body employs to mend tissue and produce collagen. Platelet-rich plasma (PRP) therapy concentrates your blood's healing capabilities before injecting it back into you to accelerate healing and cellular regeneration in the treatment areas.
Here is a list of other health services by ConciergeNP. Please note that these services are only available for adults 18 years old and above.
• Primary Care Services
• Occupational Drug Testing
• Covid-19 Testing
• Covid-19 Vaccination
• Weight Management
• Telemedicine for non-emergent needs
• Annual Physicals
• Women's Health
• Men's Health
• Std Testing
• Dot Physicals
We Accept:
• Straight Medicaid
• Straight Medicare
• Care Plus Medicare
• Cigna
• Self Pay
Office Hours
Monday to Friday 9:00 AM – 5:00 PM
By Appointment Only!
For Appointment
Contact Us –
Address: 1001 N. Federal Highway
Ste 341 Hallandale, Fl 33009
Phone: (754) 444-9173
Email: [email protected]
Call to Schedule an Appointment or Book Online Today!
Follow Us on Social Media
IG Name: Conciergenpllc
Facebook: Conciergenp
Tik Tok: Conciergenpllc
For more information, please visit www.conciergenp.net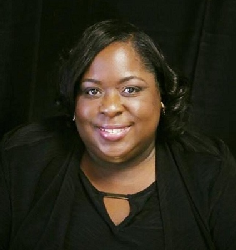 Marilyn Bryant-Tucker, is the Owner of MBT Marketing Solutions & Associates.
She is a well-rounded PR Specialist and Digital Marketer with 13 years of experience. She has a great zeal for helping Entrepreneurs grow their business, with her wealth of knowledge and experience. She holds an MBA in Marketing, Executive Graduate Certificate Business Administration, and has pursued Doctoral Studies in Marketing.
Media Contact
Company Name: MBT Marketing Solutions USA
Contact Person: Marilyn Bryant Tucker
Email: Send Email
Phone: (754) 444-9173?
Country: United States
Website: www.conciergenp.net