"Cupid Shuffle" Creator Is Teaching Others How To Live A Purpose Driven Life
You Can Pre-order Your Copy Of Bryson "Cupid" Bernard's Debut Book "Trust Your Gift" Today And Receive The Ebook For Free!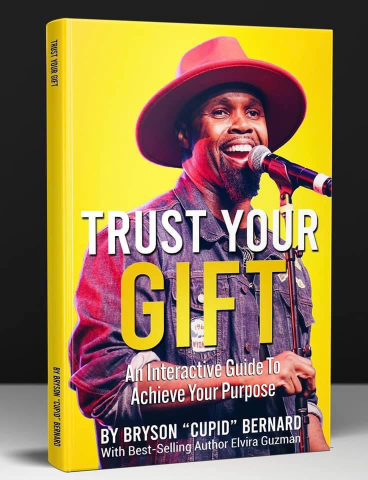 Louisiana native Bryson "Cupid" Bernard is releasing his debut book "Trust Your Gift: An Interactive Guide To Achieve Your Purpose", on January 4th. You can Pre-Order "Trust Your Gift" today at www.TrustYourGift.com and you will receive the eBook for free! He wrote the book with best-selling author Elvira Guzman. Ms. Guzman also assisted in writing Steve Harvey's "Act Like A Lady, Think Like A Man" and has released four of her own books.
Trust Your Gift is an interactive guide that will inspire the readers to achieve their purpose in life. The book is by multi-platinum selling artist Bryson "Cupid" Bernard. As a person who took the leap and has manifested his dreams, he gives excellent guidance that will motivate the readers. Cupid gained his knowledge by overcoming many obstacles in the music industry and in his personal life. In Trust Your Gift he outlines his journey and shares his ups and downs. Cupid discusses discovering his gift singing in church, quitting his job to pursue music full time, touring the world with his hit single "Cupid Shuffle" and his devastating stroke at 36 years-old that nearly took his life. Cupid selflessly shares the wisdom he gained in hopes of encouraging the readers to never give up on their dreams despite the obstacle's life will present us.
About Cupid
"Cupid" shuffled his way into the hearts of millions with the up-tempo party song "Cupid Shuffle," which also inspired the popular dance craze of the same name. From appearances on nationally syndicated TV and radio talk shows such as Dr. Oz, Steve Harvey, and Tom Joyner to breaking the Guinness Book of World Records in 2008 for the largest line dance assembled with over 17k people, Cupid has virtually reshaped dance music and created an entirely new genre. When the Lafayette, LA native composed "Cupid Shuffle" he had no idea that the song or he would turn into a global entertainment phenomenon taking his talents to distant lands like Dubai and Germany.
Media Contact
Contact Person: Elvira Guzman
Email: Send Email
Phone: (818) 396-7691
Country: United States
Website: www.trustyourgift.com