MobiCommerce Launches A Free Magento 2 Extension For Mobile Apps And PWA Builder On Magento Marketplace
IRVING, Texas – November 8, 2021 – MobiCommerce, the leading digital commerce company, is pleased to announce the launch of its FREE Mobile Apps and PWA Builder extension on the Magento Marketplace.
This open-source Magento 2 extension offers an easy workflow for creating a mock-up mobile app and PWA before the development is made live. It is available for the Magento store version 2.4, and supports browsers Chrome, Firefox, Safari, and Edge.
Engineered for all B2C and B2B businesses and multi-vendor market players, Mobile Apps and PWA Builder by MobiCommerce helps set up robust and efficient mobile solutions for iOS and Android and intuitive Progressive Web Apps rather easily.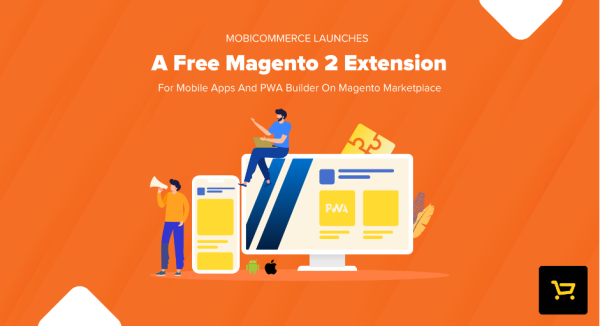 "With the increase in eCommerce sales due to the pandemic, it is only obvious that e-retailers must implement the right scalable technology to delight their customers. Our Magento extension is a step in that direction," says Mr. Rakesh Jain, Co-Founder & CTO, MobiCommerce.
The idea of developing an extension was conceived when some of MobiCommerce's clients expressed their desire to build trial Magento PWA and Mobile Apps. The team did not waste much time on it and listed the extension as fast as they could.
"Now our clients can create trial PWAs and Mobile Apps by installing the extension from the Marketplace independently. Our Magento 2 extension is fully authenticated, which means you do not need to worry about the storefront slowing down if you deploy it. Plus, the installation process is quick and easy. You will not see any downtime on your live website," explains Mr. Jain.
As per Magento's standard policy, any extension has to undergo multiple steps in the review process, including both manual and automated reviews. MobiCommerce Magento 2 extension successfully passed the Magento EQP process, ensuring all Marketplace extensions meet Magento's best practices.
The installation done through Magento Marketplace is protected by Magento's buyer protection policy. Those who download the installation can seek support from the Magento staff rather than relying on MobiCommerce for fixing issues.
This independence is for the benefit of the eCommerce storefront owners. MobiCommerce has been recognized as an authentic mobile commerce service provider on Magento because of the entry of its extension in the Marketplace. If you would like to visit MobiCommerce's Magento 2 extension, please visit the Marketplace.
Media Contact
Company Name: MobiCommerce
Contact Person: Media Relations
Email: Send Email
Country: United States
Website: https://www.mobicommerce.net/magento-mobile-app/