How to quickly transform house with SPC flooring?
SPC flooring is a lightweight and environmentally friendly floor material, which is especially suitable for the renovation of old floors. As long as the original floor is stable and flat, it can be directly covered, reducing decoration pollution and reducing the use of decoration materials, giving you an easy replacement !
There are many aspects to consider when renovating a house:
1. The product itself is environmentally friendly.
DEGE SPC flooring is polymerized with natural stone powder and environmentally friendly formaldehyde-free PVC resin, and there is no plasticizer such as DOP, so it only needs to use new materials or strictly screened and processed recycled materials (but this is not realistic at this stage, because such recycled materials are more expensive than brand-new materials), so there is basically no such operation. Ordinary recycled materials are not good, because it is difficult to solve the problem of heavy metals exceeding the standard).
2. The installation process should be environmentally friendly and easy.
This stone-plastic lock floor has no dust, no glue, light weight, and not much waste.No glue or nails needed in the installation process because of the unilin click of DEGE SPC flooring
It is easy to install and uninstall. The SPC flooring paving process is clean and healthy compared to traditional wood flooring installation. You can even install and enjoy it on the same day. The average paving speed is 15~25㎡/h.
3. Dimensional Stability
Wood flooring easily shrinks and cracks.SPC flooring is dimensionally stable. DEGE SPC flooring can cope with moisture and severe temperature changes well. It doesn't shrink and perfect to floor on large scale.
4. It can be recycled and reused.
The SPC flooring is a recyclable product. Of course, the cost of recycling and reuse is very high. At this stage, there is no practical operability, but its lightweight characteristics (only a few millimeters thick) determine it. It is obviously superior to stone, ceramic tiles, and wood floors in terms of recycling, dismantling or destruction.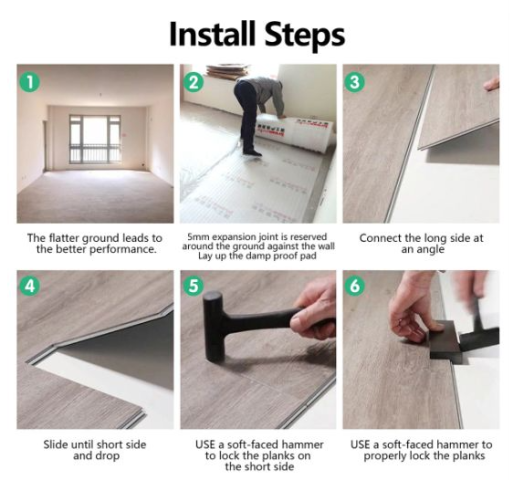 Media Contact
Company Name: CHANGZHOU DEDGE DECORATIVE MATERIAL CO., LTD
Email: Send Email
Phone: 0086-18106124965
Address:Building B, No. 388 Heping Road, Tianning District
City: Changzhou
State: Jiangsu
Country: China
Website: https://www.degefloors.com/