Synthetic Fibers Market Report: Future Opportunities and Key Strategies Adopted by Key Players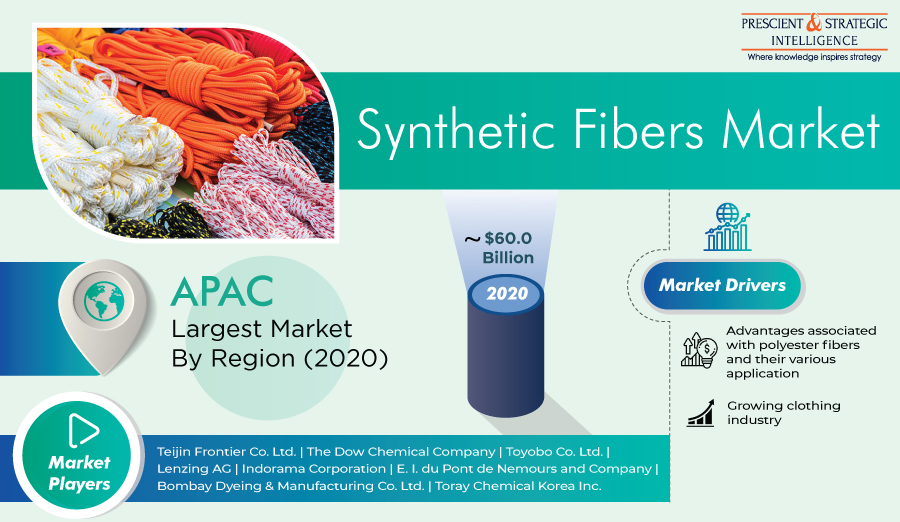 Currently, Asia-Pacific dominates the synthetic fibers market, a situation that will stay the same in the coming years. This will be because the region is home to many of the world's largest producers of apparel, including India, China, Bangladesh, Vietnam, and Hong Kong.
Over the last few years, customers have shifted from natural fibers to synthetic or man-made fibers due to the cost-effectiveness, wider application base, and abundant availability of the latter. Additionally, higher strength, elasticity and resistance to wear of synthetic fibers make them more sought after than natural variants. As man-made fibers are not dependent on agricultural produce and favorable temperature ranges, which are inconsistent due to global warming, their production will not be hindered by changing agriculture patterns and weather conditions.
Acrylic, polyester, polyolefin, and nylon are the different types of synthetic fibers being produced in contemporary times. In recent years, the consumption of polyester fibers has significantly surged in heavy-duty industrial applications, such as conveyor belts, due to their high strength and elasticity, low cost, and recyclability. Thus, the increasing consumption of polyester will help the synthetic fibers market prosper during 2021–2030. According to P&S Intelligence, the market generated ~$60.0 billion revenue in 2020.
Request for sample pages of this report: https://www.psmarketresearch.com/market-analysis/synthetic-fibers-market/report-sample
Moreover, the expanding clothing industry will also accelerate the consumption of synthetic fibers in the forthcoming years. For instance, the Ministry of Textiles, Government of India, states that cloth production (excluding wool, silk, and khadi) in the country grew from 66,845 million square meters (sq. mtr.) during 2017–2018 to 70,046 million sq. mtr. during 2018–2019. Furthermore, the National Council of Textile Organization (NCTO) states that U.S. textile and apparel shipments stood at $64.4 billion in 2020.
In recent years, synthetic fiber producers, such as Toray Chemical Korea Inc., Teijin Frontier Co. Ltd., Lenzing AG, Indorama Corporation, Toyobo Co. Ltd., E. I. du Pont de Nemours and Company, The Dow Chemical Company, and Bombay Dyeing & Manufacturing Co. Ltd., have been engaging in mergers and acquisitions to reach out to a larger number of customers. For example, in March 2021, Teijin Frontier Co. Ltd. merged its subsidiary companies— Teijin Modern Yarn Co. Ltd. and Shinwa Limited to develop, produce, process, and sell yarns under a new name, Teijin Frontier Knitting Co. Ltd.
Browse detailed report on Synthetic Fibers Market Analysis, Opportunities, Trends, Developments and Forecast to 2030
Globally, the Asia-Pacific (APAC) region dominated the synthetic fibers market in the recent past, due to the large-scale production of acrylic, polyester, nylon, and other man-made fibers in India, Taiwan, Japan, and South Korea. For instance, according to the Ministry of Textiles of the Government of India, India produced over 1441 million kg of synthetic fibers during 2017–2018. Furthermore, the Ministry reported that India is the second largest producer of viscose and polyester in the world.
Thus, the wide application base of synthetic fibers will amplify their consumption in the upcoming years.
Synthetic Fibers Market Size Breakdown by Segments
By Type
Polyester
Nylon
Acrylic
Polyolefin
Others
By Distribution Channel
By Application
Clothing
Home Furnishing
Automotive
Filtration
Others
By Region
North America Synthetic Fibers Market

By type
By distribution channel
By application
By country – U.S. and Canada
Europe Synthetic Fibers Market
By type
By distribution channel
By application
By country – Germany, France, U.K., Italy, Spain, and Rest of Europe

Asia-Pacific Synthetic Fibers Market

By type
By distribution channel
By application
By country – Japan, China, India, Australia, South Korea, and Rest of APAC

Latin America Synthetic Fibers Market

By type
By distribution channel
By application
By country – Brazil, Mexico, and Rest of LATAM

Middle East and Africa Synthetic Fibers Market

By type
By distribution channel
By application
By country – Saudi Arabia, South Africa, and Rest of MEA
Browse Other Related Reports
Polyester Hot Melt Adhesives Market – Globally, the polyester hot melt adhesives market will demonstrate the highest growth rate in the Asia-Pacific region in the coming years. This will be because of the surging investments being made in the industry in the developing countries such as India, China, Thailand, and Vietnam. Moreover, China is a manufacturing center and one of the largest exporters of electrical and electronic components in the world.
Synthetic Rubber Market – Geographically, the Asia-Pacific region contributed the highest revenue to the synthetic rubber market in the years gone by. This was because of the high requirement for synthetic rubber in the tire and construction industries. Moreover, leading automakers are rapidly setting up their manufacturing facilities in the APAC countries in order to strengthen their position in the industry. Currently, the automotive industry is surging in China, on account of the growing demand for clean automobiles, which is also fueling the expansion of the regional market.
Media Contact
Company Name: P&S Intelligence
Contact Person: Abhishek
Email: Send Email
Phone: +918887787886
Address:Noida Sector 2
City: Noida
State: UP
Country: India
Website: https://www.psmarketresearch.com/market-analysis/synthetic-fibers-market