Day and Night Exotic Cereal Bar Opens New Location to Offer Customers the True Essence and Vibe of Cleveland with A Touch of Nostalgia
The brand-new bar is positioned to be a one-stop-shop for exotic cereal menus, fun, sports, and entertainment
The owners of the Day and Night Cereal Bar were spurred by the desire to create an environment where; when coming to Cleveland, an individual can get a chance to experience its essence. With nostalgic cereal bowls, shakes, and delicious waffles, pleasing ambience, and a menu that is sure to get customers drooling at a single glance, Day and Night Cereal Bar is set to achieve this goal.
In a bid to expand their reach, Day and Night Cereal Bar announces the opening of their brand-new location at 2012 W. 25th St, Cleveland, OH 44113 in June of 2022. The bar has been reviewed and supported by A-class celebrities such as Gabrielle Union, LaMelo Ball, and more who have testified of this hot spot with locations in Los Angeles CA; Charlotte NC; Clarksburg MD, Washington DC, and more. The bar is also the first black-owned restaurant on W. 25th St and the first of its kind in the soul of Downtown Cleveland/Ohio City.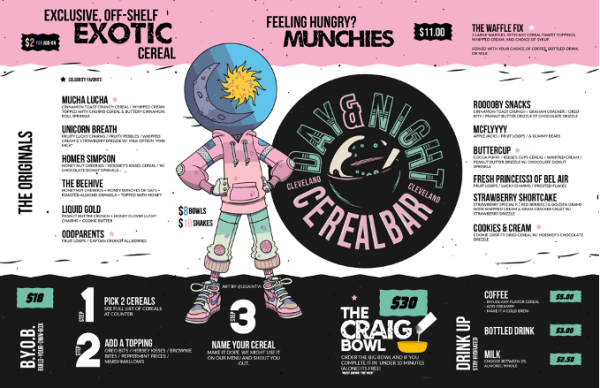 A Cleveland reporter, Heather-Lee Addison, while speaking about the bar had this to say: "One of the owners is the Digital Media Manager for the Cleveland Browns, so I expect a lot to happen at this location for sports. She is also an artist; I saw her collection at Superior Sounds in 2020 so I am personally excited to see how she brings these two lives together. She, Leanne Jones, met with me for coffee at the local 27 Coffee Club, and then we went into Day and Night while it was under construction, where she sampled her collection of art installations to honor Cleveland's sports, music, entertainment, and arts. It is truly a vision to see in person or even on Instagram, since they have a super nostalgic interior space that is perfect for photos."
Additional ownership of this vibrant new location, Reginald Crumpton- A real estate guru who has restored homes in the Cleveland area for 5+ years with the desire to bring them to modern living standards – and Antonio Jones (Tony Tru) talented music artist currently living in Los Angeles California where he has delivered hit songs including Don Julio, Tell Me and 3 a.m/. The 3 owners continue to work tirelessly to bring this Cleveland vision to life by July 2022.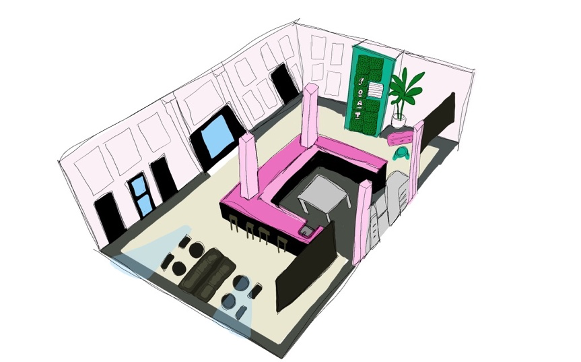 The Day and Night Cereal bar hopes to attract the attention of Cleveland residents, especially Gen Zs over the age of 21 as the bar will eventually be serving alcohol upon receiving their license. The daytime hours of the bar are a perfect opportunity for the young ones to have a healthy breakfast just before school, while providing local students at Cleveland State University and St. Ignatius, as well as other schools, a chance to build long-lasting relationships.
For more information, please visit www.dayandnightcereal.com
Instagram: @dayandnight.cle
Media Contact
Company Name: Day and Night Cereal Bar
Contact Person: Leanne Jones
Email: Send Email
Country: United States
Website: http://www.dayandnightcereal.com/