Trend Alert: Metal Roofing Outshines the Competition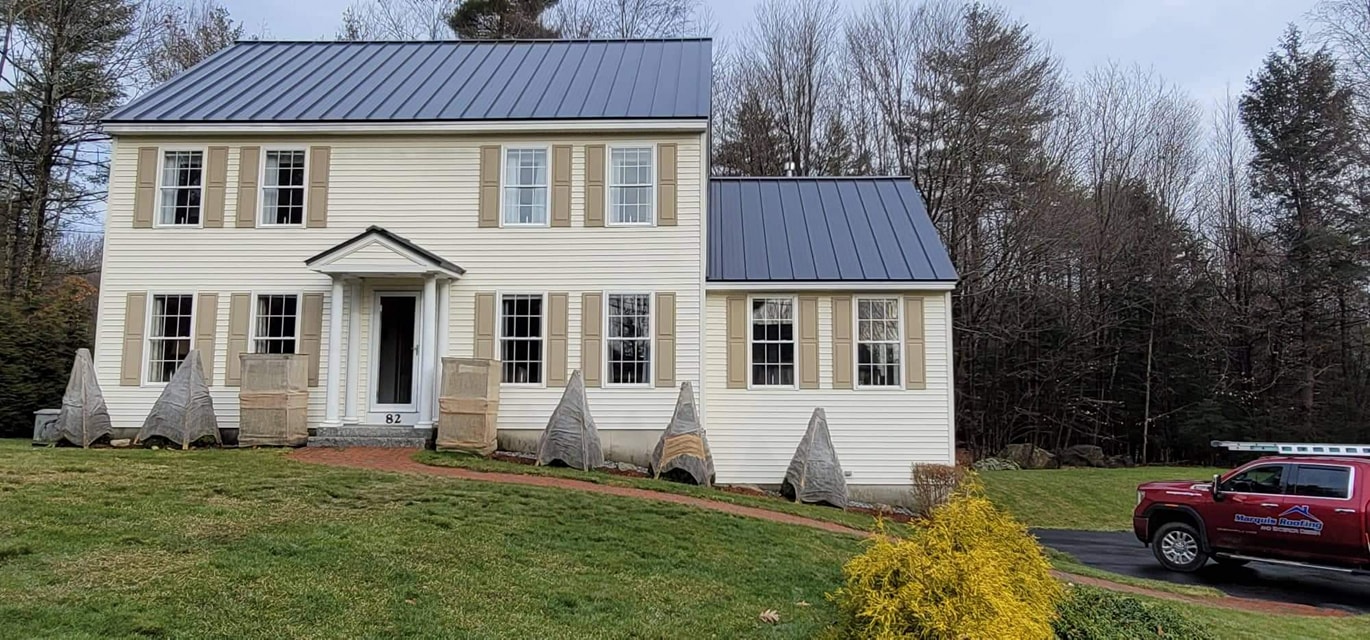 Design advancements, Long lifespan, and Energy efficiency make Metal Roofs a top choice.
Loudon, NH – Marquis Roofing, a professional roofing contractor serving the New Hampshire and Massachusetts area, provides professional roof services – from recovery to remediation, coatings, and roof replacements. For over 20 years it's helped homeowners and commercial property owners to improve curb appeal and the performance of their roof systems.
An emerging trend in roofing material type is now sweeping the North East as many are choosing metal roofs over the once-popular asphalt shingle. In addition to style and design advancements, the benefits of longer lifespan and improved energy efficiency are leading the charge in making metal roofs a popular choice.
For both new construction and roof replacements, metal has become a top choice and the market is expected to keep rising through 2028 as government funding for economic development and new commercial projects are on the rise.
Benefits of Metal Roofs
The investment in a metal roof makes sense when you consider that they last up to 3-4 times longer than other types of roofs. Where asphalt shingles may need to be replaced every few years, metal roofs can last up to 50 years and require little to no maintenance.
"Our team is the leading expert when it comes to metal roof installation," said Tom Marquis, Owner. "We've been telling our New England customers about this option as a solution to minimize damages, heat loss, and maintenance for the last 15 years and we've certainly seen so many more make the switch. We're excited to see the market growing and appreciate all of the trust and positive feedback we've received from all the jobs we've successfully completed."
The other important benefit when it comes to metal roofs is that they are 100% recyclable. From the moment it goes on to the moment it comes off and everywhere in between, it never sees a landfill. Plus, the material easily absorbs the sun, increasing energy efficiency and allowing rain and snow to easily glide off.
Marquis Roofing Special Discount Offers
Marquis Roofing is a leading expert in the installation of standing seam metal roofing for residential and commercial properties. We offer the best metal roof warranty and are a trusted roofing contractor in New Hampshire. Our customers enjoy $0 down financing and pay no interest for up to 18 months.
Veteran's Roof Giveaway
To honor a deserving hero in New Hampshire, Marquis Roofing is giving away a FREE roof at no cost to one randomly selected raffle winner live on Facebook on July 4, 2022. There's no better way to say thank you to our deserving veterans and their families than to make sure they live under a reliable roof. Nominate a hero

About Marquis Roofing
Marquis Roofing is a professional roofing company located in Loudon, New Hampshire. The team has over 20 years of experience and provides residential and commercial property owners with the best roofing recommendations and services possible. The company provides shingle and metal roof installation, roof repair, roof cleaning, and Ice dam removal services. In addition to dozens of 5-star Google Reviews, we also have an A+ BBB Rating.
For more information visit: https://marquisroofing.com/
Media Contact
Company Name: Marquis Roofing
Contact Person: Tom Marquis
Email: Send Email
Phone: 603-717-9599
Address:129 Staniels Rd.
City: Loudon
State: NH
Country: United States
Website: http://marquisroofing.com/