EEIT Set to Launch the Next Generation of Energy & Infrastructure Expansion Programs at Summit.
Washington, D.C. – Jun 14, 2022 – The American Energy Security & International Trade Summit (Register HERE) is scheduled to take place on June 21, 2022, in Washington, DC. American Energy & Infrastructure c-suite and senior executives interested in international multinational trade and commercial expansion into Eastern Europe are encouraged to register for the American Energy Security & International Trade Summit hosted by the Eastern European Institute for Trade.
The summit will be located at the Romanian Embassy and will host senior government officials from the Romanian Ministry of Energy and several other Eastern European countries including Moldova, Georgia, Bulgaria, Azerbaijan, and more.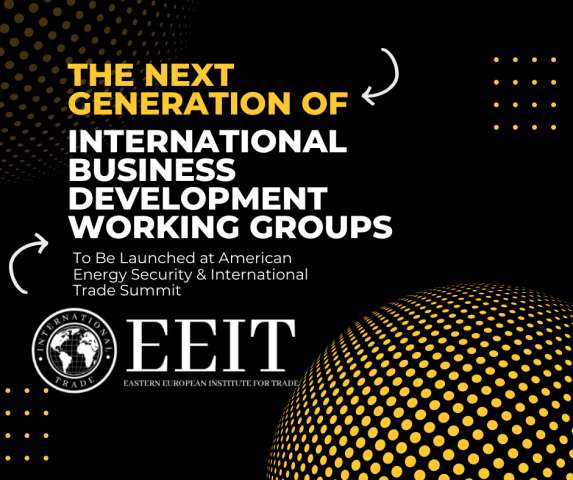 American energy and infrastructure organizations with an interest in expanding their services into Eastern Europe or pursuing stronger international trade relations and access will network and engage with senior stakeholders
The summit will be heavily attended by senior officials from Romania's public and private energy sector from organizations such as the National Energy Regulatory Authority, ROMGAZ S.A. (Romania's national gas company), Distrigaz SA (Romania's national gas distribution company), SAPE (Romania's state-owned energy fund), HENRO (Trade association representing the interests of the companies producing electricity from fossil fuels), DEPOGAZ Ploiesti (Primary gas storage operator in Romania with a share of more than 90% of the total gas storage capacities), and George Sergiu Niculescu (Romanian Minister of Energy) (Will be attending Virtually to discuss infrastructure and energy trade opportunities, and to respond to questions).
The Eastern European Institute for Trade will be launching International Business Development roundtables, partnerships, joint ventures, and working groups that will include ongoing commercial collaborations as well as domestic and international trade missions to all the above-mentioned nations.
EEIT will be launching its much-anticipated Infrastructure-focused Working Group programs designed as accelerated international business development hubs for organizations focused on the global expansion of their energy, infrastructure, and technology companies into Eastern European markets. EEIT's public-private sector c-suite and stakeholder access offer a unique opportunity for American senior executives, European commercial diplomats, and international government officials to engage.
EEIT's International Energy & Infrastructure Working Groups Offers Members:
The synergistic formation of public-private sector, European – American commercial, and trade alliances

Regular pre-set meetings and introductions that begin with "deal" focused dialogue

Accelerated international commercial and brand expansion

Infrastructure project identification, joint ventures, partnerships, strategic alliances, infrastructure project packaging, and finance

Regular in-person and virtual meetings with public-private sector stakeholders for commercial trade projects and collaborations

Trade-focused international government relations that open new doors to projects and commercial growth

Trade missions to Europe to meet commercial and government stakeholders to create new partnerships and tour regions for potential projects

European commercial trade missions to the United States

International trade summits are hyper-focused on identifying new projects, joint ventures, and strategic alliances.
EEIT was founded upon the mission to accelerate trade and collaborative commercial exploration between American infrastructure organizations and their public-private sector counterparts in Eastern Europe. The International Fellows program offers a results-driven program for commercial expansion, deal-centric engagement, transaction-focused introductions, and strategic European public-private sector stakeholder access that results in new projects, joint ventures, and accelerated expansion into the European marketplace.
For More Information Contact: [email protected]
About the Eastern European Institute for Trade:
Our mission is to act as a strategic conduit that offers commercial enterprises a dependable multi-faceted approach, and direct trajectory to accelerated trade and economic development between American organizations and our Eastern European allies. Through EEIT's trade missions, fellows programs, trade summits, and regional economic organization and trade association partnership programs, we are continuously raising the bar for meaningful international government relations, and results-driven multinational trade strategies.​
Media Contact
Company Name: Eastern European Institute for Trade
Contact Person: Communications Desk
Email: Send Email
Country: United States
Website: https://www.easterneuropeaninstitutefortrade.org/post/eeit-set-to-launch-the-next-generation-of-energy-infrastructure-expansion-programs-at-summit