Nick Donarski of ORE System to Moderate Metaverse and Blockchain Panel at MdDAO's Health and Technology Summit June 18, 2022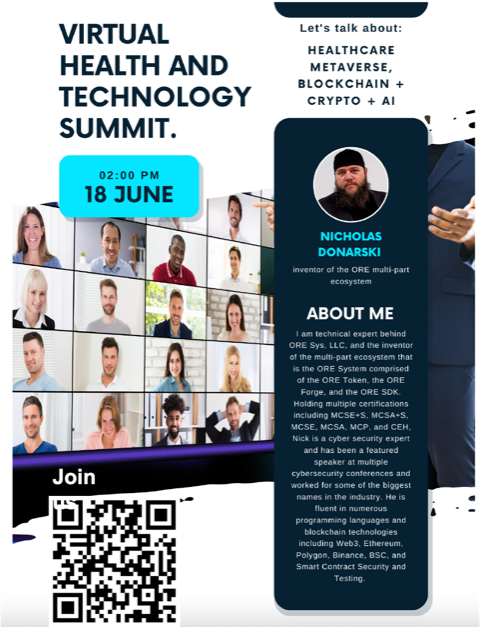 The Summit hosted by MdDAO and 247 Health Solutions is taking place online, June 18, 2022, from 9 am to 4 pm PST.
Renowned Healthcare and Technology Leaders Come Together and Offer an Unparalleled Opportunity to Reimagine the Future of Health and Wellness
AUSTIN, Texas – June 14, 2022 – ORE System, named one of the top 10 Blockchain Solutions providers for 2022 by Enterprise Magazine, is pleased to announce that its CTO and Founder, Nick Donarski will moderate the Healthcare Metaverse, Blockchain, Crypto and AI panel during the Virtual Health and Technology Summit. Donarski will be facilitating a panel with distinguished guests including Jonathan Cole Founder of LLCCrypto.net, Dr. Rohan Nagar an Educator and Health Coach, Physician data scientist Dr. Manjit Randhawa, Lisa Thurman Martinez of the Global Alzheimer's Platform Foundation, and Five Times New York Bestselling Author Loral Langmeier. The Summit hosted by MdDAO and 247 Health Solutions is taking place online, June 18, 2022, from 9 am to 4 pm PST. Donarski's panel will take place at 2:00 pm PST. Registration for the event is complimentary and interested attendees can register here.
"I am thrilled at the opportunity to participate in this event and look forward to sharing my expertise and experience to enhance the conversation and explore how using blockchain technology and other cybersecurity strategies can help MdDAO reimagine the future of health and wellness," stated Nick Donarski, CTO and Founder of ORE System. "MdDAO is a bold initiative that can transform the future of healthcare with novel innovations and opportunities for all."
During the virtual event, attendees will hear from more than 25 experts on need-to-know trends and emerging subject areas. Participants will have incredible value learning from such notable leaders including Arabian Prince, CEO of MdDAO, Baron Davis (two time NBA Allstar and entrepreneur), John Dwyer, President of Global Alzheimer's Platform Foundation, James Bates, CEO & Founder of AdviNow Medical, William P Stanford, founder of the Beverly Hills Institute for Precision Medicine, Dr. Edward F. Group III, Founder of Global Healing Center, and Henry Peck, founder of MedTech Club, just to mention a few.
About MdDAO
Founded in 2021, MdDAO was born from the collaborative initiative of individuals with a diverse and complementary set of expertise in healthcare, marketing, and technology. Through the collective efforts and vision of the MdDAO community, it will design and build the premier metaverse in the area of health & wellness, improving access to care, hosting innovation, and leveling the playing field. Opportunities for insights and discoveries will emerge through this democratic process. Transactions on the MdDAO derived metaverse, as decided upon by the DAO, will include but are not limited to virtual property, events, and healthcare services. A medical utility token (MedV) will serve as the preferred transactional token on the metaverse. It will be complemented by a "healthy habit" rewards program to drive adoption in the virtual and physical worlds. This unique interplay between the MedV token and the medical metaverse will shift healthcare towards an enhanced patient-centric interaction with a multi-dimensional experience.
MdDAO is a registered trademark of MyMedV, Inc.
For more information on MdDAO: Website: www.MdDAO.com
About ORE System
Made by gamers for gamers, with an edge, ORE System, is a software company revolutionizing the gaming industry by reducing the time, cost, and experience a game developer needs to integrate blockchain technology into their games. Focused on bringing the gaming community together and introducing NFT ownership into the industry within the U.S., gamers will now truly own the gear, and developers will truly own the game. The complete ORE system is the first cross-platform ecosystem available to the blockchain community where for the first time, gamers REALLY determine if a game or an item is worth anything.
For more information visit www.ore-system.com
Source: ORE System
Media Contact
Company Name: Ore System
Contact Person: Otter Public Relations
Email: Send Email
City: Orlando
State: Florida
Country: United States
Website: www.otterPR.com