Shangcheng district of Hangzhou strives to build a global talent hub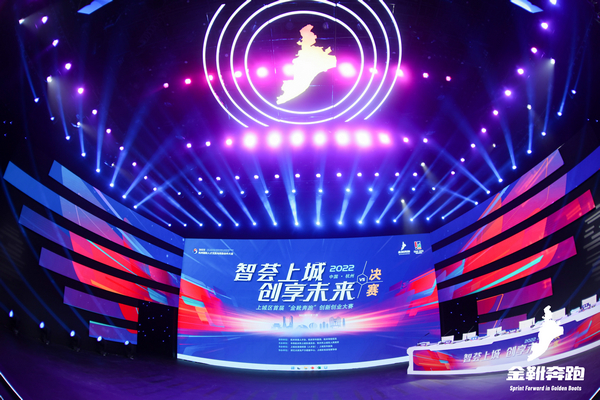 The 1st "Sprint Forward in Golden Boots" Innovation & Entrepreneurship Competition in Shangcheng District closes in Hangzhou, East China's Zhejiang province, on Nov 1, 2022. [Photo provided to chinadaily.com.cn]
Surrounded by the World Heritage West Lake and the prosperous Qiantang Riverbank, Shangcheng district of Hangzhou has become a dynamic junction for capital, talent and information exchange in East China's Zhejiang province. Many wonderful ideas were incubated, generated and developed here. Numerous new enterprises are growing rapidly here, emerging and grabbing the public eye.
These results come from the new development concept and new development pattern of Shangcheng district. Only by adhering to the priority of talents, constantly promoting the construction of talents, creating a "new highland" for innovative and entrepreneurial talents, and "paving the way, setting the platform and building the ladder" for talents, can the current achievements of Shangcheng be achieved.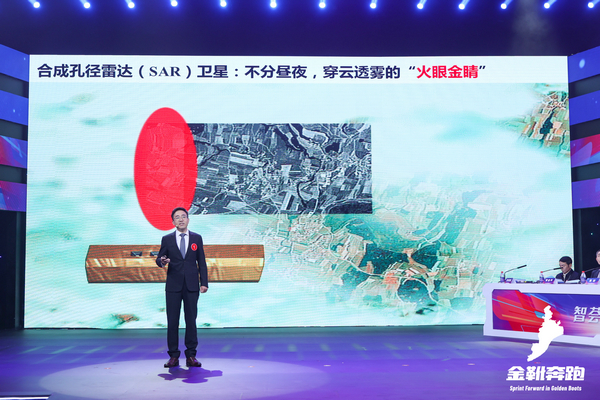 One of the contestants introduces the business proposal to the judging panel during the competition, on Nov 1, 2022. [Photo provided to chinadaily.com.cn]
Continued commitment to talent recruitment
On Nov 10, the First "Sprint Forward in Golden Boots" Innovation & Entrepreneurship Competition in Shangcheng District, a series of activities of the 2022 Hangzhou International Talent Exchange and Project Cooperation Conference, successfully concluded. The course of the competition closely relates to the strategic goals and emerging industries in the national "14th Five-Year Plan", focusing on six fields including financial technology, information technology, high-end services, artificial intelligence, smart medical solution and photoelectric technology, attracting high-quality talents and effectively implement the projects.
"Since its launch this July, the competition has attracted high level talent from both home and abroad, in places including Shenzhen, Beijing, the US and Europe. We combine the strengths and resources of various partners to attract innovative and entrepreneurial talents and promote the development of emerging industries in our district," the contact person from the Talent Office of Shangcheng District said.
In addition to the competition, Shangcheng district has also introduced the "Golden Twenty" new policy for talents and launched the "Sprint Forward in Golden Boots Program", aiming to gather a group of high-end leading talents, industry talents, domestic and overseas entrepreneurial talents, and young talents to provide human resources to build an international modern model of a prosperous urban area. Up to now, the total amount of talents recruited in Shangcheng has reached 382,100 people.
Innovation platform imbued with vitality
In August this year, Hangzhou Dishi Medical, located in Qiantang Smart City, Shangcheng district, officially opened. The project focuses on the research and development of medical robots in the field of microscopy, and has won first prize in 2021 Hangzhou Business Startup Competition.
"We focus on healthcare and robotics. The district gathers companies of the medical industry and an upstream and downstream industrial chain, which is of great help to resource integration," a representative from Dishi Medical mentioned, "After landing in the city, we received 15 million yuan of funding, as well as site coordination, financing negotiation, resources docking and other one-stop services. These are great things for startups to grow".
In the first half of 2022, besides Dishi Medical, a number of outstanding projects led by national leading talents such as Tracy Energy and Sudian Technology have also landed in Shangcheng. Now the district has 39 incubators and innovation platforms at the municipal level or above, 3 industrial innovation service complexes at the provincial level, nearly 600 national high-tech enterprises, more than 1300 provincial science and technology smes, more than 300 R&D institutions at the municipal level or above, and nearly 180 leading talents and teams at the municipal level or above.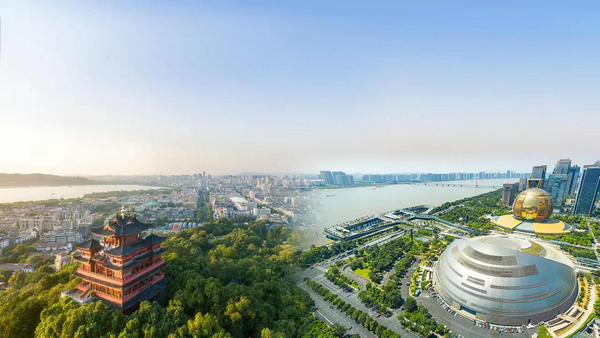 Panorama view of the Shangcheng district in Hangzhou. [Photo provided to chinadaily.com.cn]
People-oriented services warm the hearts
"The talent service in Shangcheng is very thorough. They organize us for medical check-ups and recuperation every year. Sending flowers and cakes to us on birthdays making overseas entrepreneurs feel at home", Sun Zong, founder of ImmuQuad Biotech, said.
Shangcheng district's appeal depends on the policy and talent cultivation environment. It provides a "one-stop" business and government service platform and launches a "one-finger-oriented" intelligent talents service system online. In February this year, the "Shangcheng Talent Code" was launched, focusing on transportation, education, medical and other "key small things" to provide comprehensive and convenient services for high-level qualified personnel.
By further implementing diversified housing security such as market-based apartment subsidy, apartments and lodging for young talents, and actively building communication platforms such as the Weekend Roundtable and Approaching the New Shangcheng, the district manages to enhance people's sense of belonging, happiness and achievement.
Media Contact
Company Name: The Information Office of Hangzhou Municipal Government
Contact Person: Cai Jingwen
Email: Send Email
Phone: 0510-68559077
Country: China
Website: http://www.ehangzhou.gov.cn/