Mendel by Damone Bester is an Original Coming of Age Story About Family, Forgiveness, and Sacrifice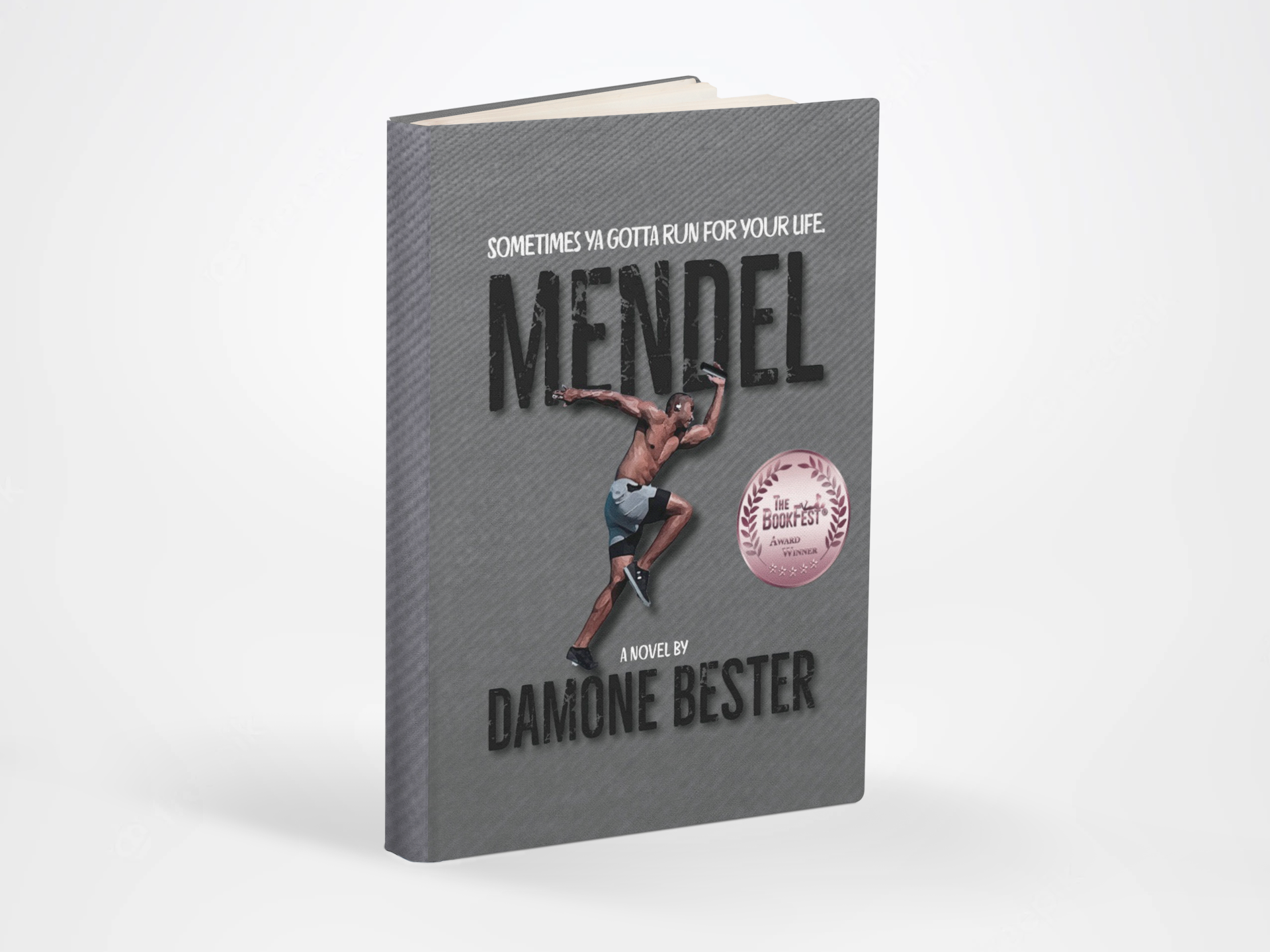 Damone Bester's award-winning novel, MENDEL is a gripping narrative of a teen athlete's struggle to overcome adversity in the dangerous streets his father once ruled.
MENDEL is a thought-provoking story about a high school senior at Chicago's legendary Mendel High, who must learn to forgive as he navigates life without his recently deceased mother that passed during cancer surgery. BJ's father, who has just been released from an eight-year prison sentence, returns to look after him in the wake of this tragedy. The teen's life is turned upside down again after accidentally finding his mother's journal which revealed her dreams of becoming a collegiate track star were derailed due to getting pregnant with him. To honor his mother, BJ joins Mendel's track team and experiences solace in the team's tight-knit community. Just when things appear to be moving forward, BJ's father's past catches up to the grieving family when a dangerous adversary comes looking for revenge. Faced with a harrowing choice, BJ must decide between saving his own life or sacrificing it all to save his estranged father.
"Even though it's a fictional story, the high school was a real place. I attended Mendel on the Southside of Chicago. There's great detail in this novel because I lived it!" says author Damone Bester. As an acclaimed award-winning author, Bester's reverence for Mendel rings loud and clear. A former Top 10 institution that has played a vital role in the lives of many young athletes, other notable Mendel attendees include NFL Coach Bill Callahan, Two-Time NFL Superbowl Champion, Howard Griffith, and MLB and Olympic Gold Medalist, Ernie Young. With themes of family, forgiveness and sacrifice, the book reminds readers that every challenge in life is an opportunity to develop into one's true self and find one's place in the world. "At its core, Mendel is a story about how a young teen was able to triumph in the midst of incredible odds. I want readers to leave this book feeling they are able to overcome life's trials just as the main character did."
Haunted by the violence of the past, and surrounded by violence in the present, BJ could have easily found himself living out his father's mistakes. But as a part of the track team, BJ is also surrounded by love and community. It's the support system that he finds at Mendel that takes the spotlight of the story and aptly earns its place as the book's namesake. Bester's way of conveying how BJ's experience at the prestigious school prepares him for the trying journey ahead is truly powerful. In addition, Bester's ability to convey the themes of the story through the choices of his characters is extraordinary. Whether it's BJ's mother, father, or BJ himself, we are deeply captivated by the choices these characters make and are challenged to ask why their sacrifices have become necessary. Though a period piece set in the 80's, Mendel highlights the complexities of humanity and the harsh realities of our world today and how one teen triumphed.
MENDEL has received positive reviews from well-renowned experts around the world. Howard Griffith, Two-Time NFL Super Bowl Champion writes, "A fantastic read! This fictional story gives insight into what some young student-athletes dealt with on a regular basis growing up on the South Side of Chicago." In addition, Ernie Young, Former Major Leaguer, Olympic Gold Medalist and Coach of the USA Baseball National Team writes, "This story depicts perfectly how one's high school experience can shape one's future."
MENDEL is proof that there are still original stories waiting to be told. Available on Amazon, Barnes & Noble, Apple iBooks, Kobo, Nook, Google Play, Audible and other online bookstores. Audiobook read by the author. Fans of contemporary fiction are encouraged to get a copy today: https://www.amazon.com/Mendel-Damone-Bester-ebook/dp/B09TG4YVQY
About the Author
Damone is an award-winning author, poet, aspiring screenwriter, and voiceover artist. He has a bachelor's degree in Psychology from Illinois State University and has spent most of his profession in Social Services. He currently lives in the Twin Cities and enjoys fishing, bowling, basketball, bean bags, and bragging about his nephew and nieces.
To connect with the author, please visit: https://www.damonebester.com
Media Contact
Company Name: Author News Network
Contact Person: Media Relations
Email: Send Email
Country: United States
Website: authornewsnetwork.com