Yeslamp Ace, the RGB eSports Dynamic LED Desk Lamp, launched on Kickstarter
LED Desk Lamp includes RGB Ambient Lighting, Built-in Fast Wireless Charger & PD Fast Charger, and Healthy lighting technology for prolonged use
Yeslamp Ace has been launched today on Kickstarter, at <https://reurl.cc/OEK01R>, as an innovative desk lamp with multiple dynamic and adjustable lighting functions especially developed for gamers and for professionals who need perfect desktop lighting support.
The lamp's Mecha design and robust aluminum alloy structure is highlighted by the campaign as a plus that is expected to entice users, combined with its 4 switchable smart RGB ambient light modes, which create impressive lighting effects that are synchronized through a sound sensor with the rhythm of the sound that is being played.
Yeslamp Ace also features especially designed LED lamp beads with a Color Rendering Index (CRI) higher than 96 that leaves the lamp's lighting effect close to the natural light spectrum, along with being eye-friendly for the user. This light does not distort the authentic color of objects, and users can rely on it either to play or to study, research, work, or create artwork for hours on end.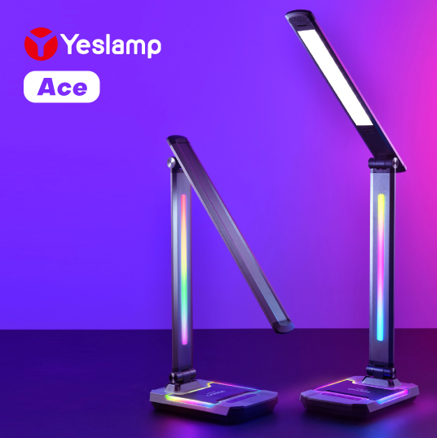 The lamp also features a built-in fast wireless charger supporting the QI standard and a Type-C port supporting the PD fast charging protocol. Users will have their workspaces de-cluttered because they won't need to have all the charging cables that people typically need to keep around.
The lamp has a compact foldable design that makes it takes almost no desk space and it also makes it easy to carry. The fact that it is foldable, combined with its adjustable lamp arm, means that users can truly personalize the way they enjoy the high-quality lighting impact that this lamp offers.
The Yeslamp Ace on Kickstarter at <https://reurl.cc/OEK01R> is seeking to fund the large-scale production of the device, which will be offered early and for a special price to the backers who support the campaign.
About Yeslamp
For many years, we have been designing and manufacturing LED lighting products for our distributor partners in Europe, North America, and Japan. In fact, our products are very popular in major supermarkets in these countries, sold under other brand names. That's because we've spent years researching, developing, and mastering cutting-edge LED lighting technology, always translating it into the lighting products that we know that our customers—and the customers of our partners—want.
For more information, please visit <https://reurl.cc/OEK01R> or contact at [email protected]
Media Contact
Company Name: Yeslamp Technology Co., Ltd
Email: Send Email
Phone: +86 18676523568
Country: China
Website: https://www.kickstarter.com/projects/yeslamp/yeslamp-ace-rgb-esports-dynamic-led-desk-lamp?ref=dpm6bm