AV Access Launches Its New 2×1 8K KVM Switch to Facilitate Immersive Gaming Experience in Home Applications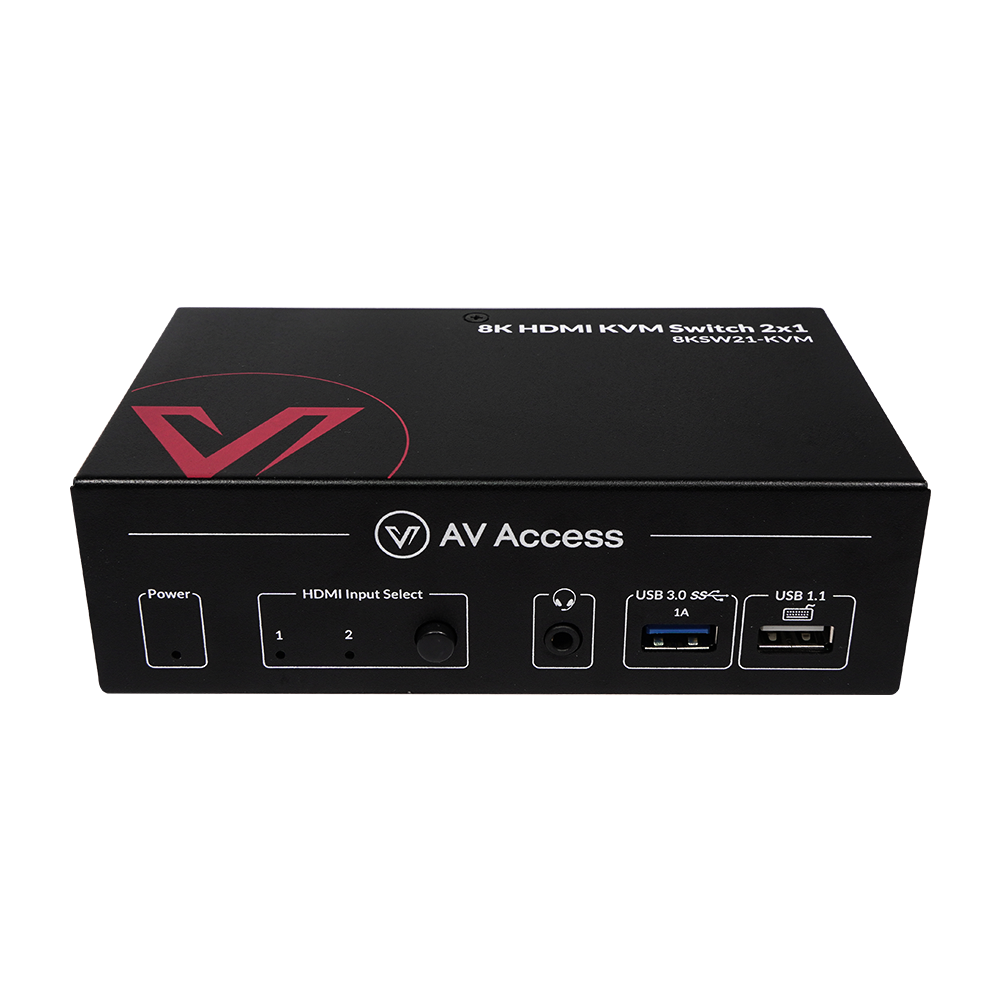 With the rapid development of display technology, the demands for 8K UHD resolution are increasing among professional game players. AV Access's brand-new 8KSW21-KVM 8K HDMI 2.1 switch boasts a built-in USB 3.0 hub, high refresh rates like
[email protected]
, and hotkey switching, ideal for home office and gaming.
With AV Access 8KSW21-KVM KVM switch, users can enjoy up to
[email protected]
immersive images and high refresh rates, like
[email protected]
and
[email protected]
/165hz. It allows users to control 2x PCs with one set of monitor, keyboard and mouse, ideal for home office and gaming.
AV Access, a leading brand in the online market of the Pro AV industry, recently announced the addition of the 8KSW21-KVM 2×1 8K KVM switch to the company's KVM switch portfolio. It boasts up to [email protected] ultra HD resolution, a built-in USB 3.0 hub, and high refresh rates like [email protected] Whether it's home office or gaming, users can easily control two PCs with one set of monitor, keyboard, mouse, etc.
8K Ultra HD Immersive Resolution
The brand-new 8K KVM switch is HDMI 2.1 and HDCP 2.3 compliant. It supports video resolution up to [email protected] 4:2:0, offering users an immersive viewing experience. It also supports the full range of uncompressed HDMI 2.1 specification features, like HDR 10, Dolby Vision, VRR, FVA, ALLM, etc.
"Nowadays, more and more professional computer game players are in need of an 8K KVM switch. We believe 8K will become a mainstream resolution in the next decade," explained Mandy Xiong, CEO at AV Access.
High Refresh Rates, Wonderful Gaming Experience
High refresh rates are crucial in fast-paced and competitive games where every frame counts. The 8K HDMI switch supports [email protected], 2560×[email protected] and [email protected]/165hz, ensuring game sources can be effectively switched.
Besides, the 8K HDMI 2.1 switch is built with up to 4x USB 3.0 ports, so users can connect a mouse, keyboard, 4K webcam, speakerphone and other devices to it. It also supports switching via the front panel button and keyboard hotkey, offering users more flexibility and convenience.
In terms of compatibility, it is plug-n-play and works with all operating systems, including Windows 10/8/7/XP, Mac OS and Linux. The 8K HDMI switch also works flawlessly with PS4/5, Xbox Series X/S, Nintendo Switch and other popular game boxes.
"Now the 8KSW21-KVM 8K HDMI switch is priced at only $119.99 for pre-sale on our official site, with a 20% discount. It will be available soon at the end of this February," added Mandy.
About AV Access
AV Access is the world's professional manufacturer and innovator of advanced Pro AV products and smart home office devices. As a contributing member of the HDBase-T alliance, we own strong R&D, supply chain and manufacturing capability, which guarantee our products are of consistently high-level quality and at competitive prices. Since establishment in 2015, it has long been our mission to offer ultimate audiovisual experience to the masses by delivering quality-assured and well-designed audio/video products at honest pricing. After more than 7 years' development, AV Access has evolved into a leading brand in the online market of the Pro AV industry. Also, we have provided localized product sales and technical support services to customers across the globe, like Europe, North America, Asia Pacific regions, etc.
Learn more by visiting www.avaccess.com
Media Contact
Company Name: Actions Global (US) Inc
Contact Person: Shane Jiang
Email: Send Email
Phone: +1-866-629-3923
Address:100 N HOWARD ST STE R
City: City of Spokane
State: Washington 99201
Country: United States
Website: https://www.avaccess.com/