A.K. KUYKENDALL RELEASES 'THE POSSESSION,' AND SCORES A MAJOR ENDORSEMENT FROM STEPHEN KING'S FIRST EDITOR AND PUBLISHER: MICHAEL GARRETT.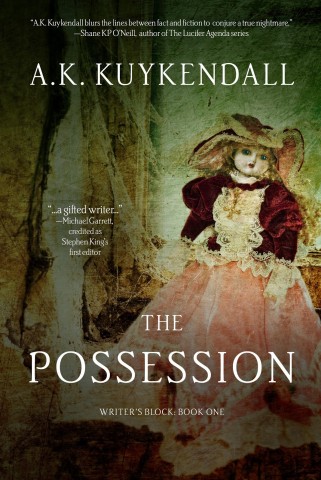 THE END TIMES… HEARD OF IT? How about End of Time, End of Days, Last Days, Final Days, Doomsday, or Eschaton? An odd question to ask, maybe, but an important one should you dare pick up this book and, of course, allow the author (The Confessional, Evolved Publishing, 2019) to regale you with another thought-provoking offering. Just another allegory in a multitude of narratives playing out within the Divine Drama, and a ride you'll find difficult to escape—the author is confident of that.
With The Possession, Kuykendall, yet again, bravely adds his voice to a debate that involves every man, woman, and child. His message is clear, his prose elegantly palpable. This story may or may not be based on true events. If you're an atheist, you'll consider it entirely fiction, but if you're a believer in any of it, then the story, in no certain terms, is absolutely based on true events. It's available wherever books are sold.
Find links to your favorite retailer now at: www.EvolvedPub.com/books/the-possession/
From the Foreword:
"It is with a degree of excitement and a little trepidation that I embark on my first undertaking in writing a foreword for someone other than myself. A.K. Kuykendall is someone I know and admire and, as a writer of some distinction, it is my charge to do him justice with this introduction.
"The same as I, Mr. Kuykendall endeavors to probe and stimulate the darker recesses of your psyches—the amygdala and hypothalamus—and provide the catalysts to detonate those incendiary devices within your minds that manifest themselves in fear. He is, of course, a writer of the horror genre; a man after my own heart…"
A.K. Kuykendall's personal website, 'where truth reads through fiction,' serves as the hub of his official web presence, connecting people from all over the world with him and his books. The site reports the latest developments related to A.K. Kuykendall, including his upcoming books, press interviews, personal appearances, prominent reviews, and so on.
Fans of thought-provoking novels and short stories have long awaited A.K. Kuykendall's return to the publishing fray. He's the author of some notable novels that, with their incredible story lines, shocking twists, and superb endings, have created dedicated and loyal fans.
The site, designed and developed by pay2web technologies, offers users the chance to know the latest happenings in A.K. Kuykendall World, and to connect with him directly through his social media pages like Facebook, Twitter, Pinterest, and more. People can also purchase his books directly from this website, which is easy to navigate and is highly responsive on all devices.
Please visit today at www.TheWriterOfBooks.com.
ABOUT A.K. KUYKENDALL
A.K. Kuykendall was born in Albany, Georgia, but grew up as a military brat on the Kaneohe Bay Marine Corps Base Hawaii (MCBH), and later at the Camp Lejeune Marine Corps Base in Jacksonville, North Carolina. He's a corporate executive chef by trade, but his true passion in life is writing thought-provoking novels that blend the realms of fact and fiction.
His writing career has been heavily inspired and influenced by Rod Serling and his classic '60s television series, The Twilight Zone, and by The Mercury Theatre's October 30, 1938 broadcast of "The War of the Worlds" over the Columbia Broadcasting System radio. He was then and still is wholly enthralled with the way these two examples showcased ordinary people in extraordinary situations. He especially loved the remarkable plot twists common to The Twilight Zone stories, and the fright manifested by H.G. Wells.
Media Contact
Contact Person: A.K. Kuykendall
Email: Send Email
Country: United States
Website: https://www.thewriterofbooks.com/