SONGZ provides air conditioning for BYD's 22-meter pure electric hinged bus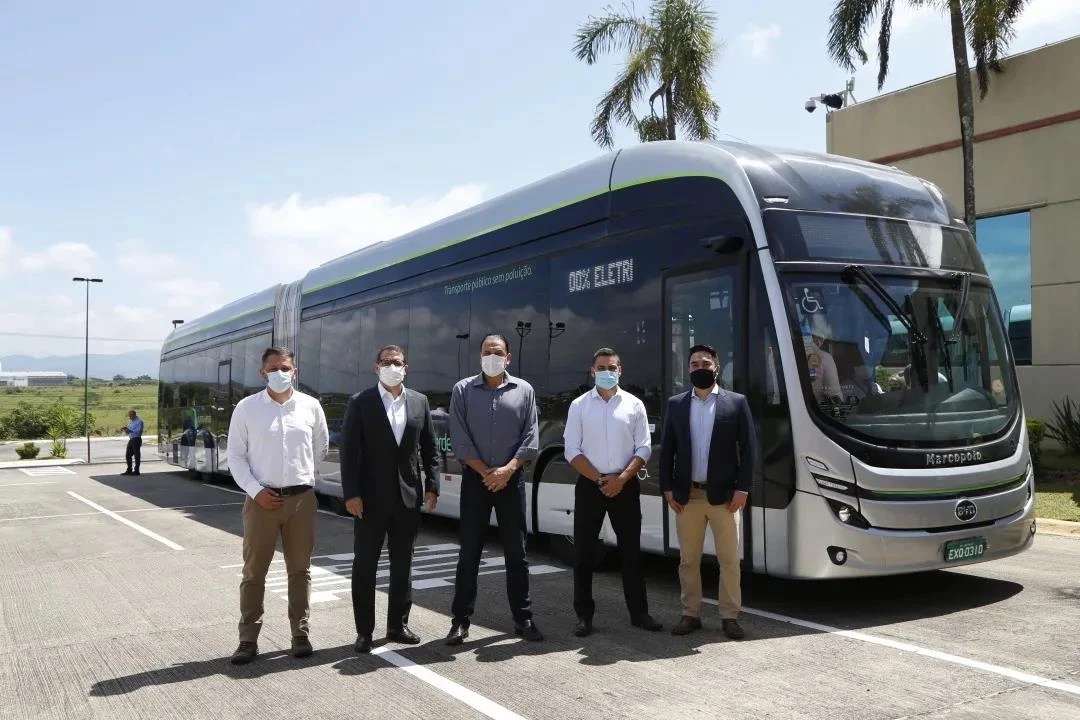 (From left to right) Marcos Jardim, Operations Director of BYD Brazil; Marcello Schneider, Bus Operations Director, BYD Brazil; Felicio Ramuth, Mayor of São Jose dos Campos; Paulo Guimarães, City Minister of Transportation, and Marco Polo sales representatives Luciano Picirillo takes a group photo in front of BYD's 22-meter pure electric hinged bus
In March 2021, Brazil's first locally-made BYD 22-meter pure electric articulated bus was successfully unveiled in São Jose dos Campos, Sao Paulo State, Brazil. This is the country's first purely electric articulated bus. Felicio Ramuth, Mayor of São Jose dos Campos, and Paulo Guimarães, Minister of Transportation, attended the bus unveiling ceremony.
It is reported that the electric air conditioner ESA series new energy bus air conditioning is a kind of roof mounted air conditioner, with single air return area, and with different models to apply for the electric buses from 6m to 8m. The ESA series supports with various optional technology, like:
• The cloud control technology,
• The high-voltage connection anti-loosening technology,
• The roof unit integrated battery thermal management system (BTMS) technology,
• The vehicle thermal management technology,
• The DC750 high voltage technology,
• The Condensation water reduction technology,
• The air purifier technology inside the bus and the energy-saving aluminum alloy compressor.
The pure electric hinged bus is provided by SONGZ and the stability and reliability of the product have been recognized by the car manufacturer. SONGZ is providing green and environmentally friendly advanced solutions, like Electric Air Conditioner for Electric Minibus and Coach, Electric Air Conditioner for Electric Bus and Coach, Double Air Return, Battery Thermal Management System for Electric Bus, and Coach.
For more info and more countries and regions in the world with high-quality and low-power electric air conditioners, contact them.
In the future, BYD will successively deliver 12 22-meter pure electric hinged buses for urban transportation projects in the local "Green Line Project corridor". The project covers an area of ​​75,000 square meters, including a pure electric BRT route and 4 squares along the route, aiming to promote clean transportation and economic development in the city.
Media Contact
Company Name: SONGZ AUTOMOBILE AIR CONDITIONING Co., Ltd.
Email: Send Email
Phone: +86 21 54428913
Country: China
Website: https://www.songzac.com/