Blue House: Ten Years on the Way Home by Veronica Braila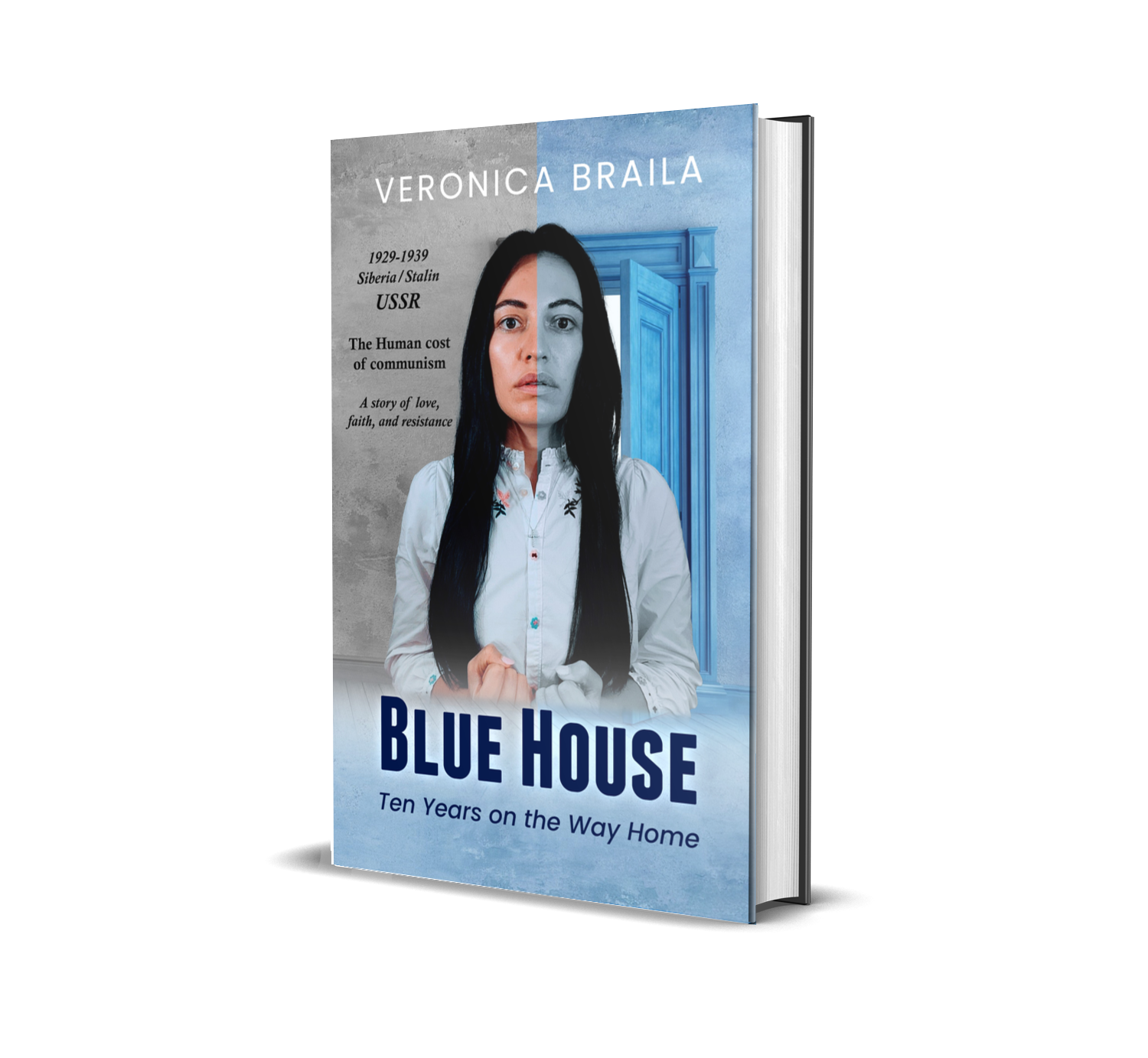 CHICAGO, Ill. – Kharis Publishing today announces the release of "Blue House: Ten Years on the Way Home"(ISBN: 978-1637461761) by Veronica Braila, an artfully woven narrative that connects the lives and struggles of five biblical foremothers to the lives and experiences of mothers today.

Blue House: Ten Years on the Way Home tells the struggles, traumas and tragedies of a family in the former USSR during Stalin's reign, pre-WWII. Dispossessed of the happy home and wealth they built through their own sweat and labor, they were forced to withstand horrors and hardships as their daily bread…when there was any bread. Their arms were their pillows; their consciences were their best friends. Silent soul-pain and physical pain did not dim their faith, for their spirits, minds and love endured. "Educate your spirit and mind to be strong. Walk firmly and confidently," states first-time author Veronica Braila. "Believe in better times, no matter what." And Braila's blue house became the haven of hope that held this family's hearts.
Video Link: https://youtube.com/shorts/gOzGYdyrYR8
"Blue House" is published by Kharis Publishing and is now available wherever books are sold, including Amazon: https://www.amazon.com/dp/1637461763/ Retailers and other agencies may order copies from Ingram Content Group or through the publisher (ISBN: 978-1637461761): https://kharispublishing.com/kp/product/blue-house/
Veronica Braila is an entrepreneur and a devoted mom. She lives just outside of Chicago and is originally from a small country called Pridnestrovia. She enjoys reading and spending time exchanging stories with others about life and faith. Veronica hopes Blue House: Ten Years on the Way Home helps others to believe in love, have faith, and forever be in touch with God throughout the journey called life. "It doesn't matter what is going on now," Veronica says. "Trust the path you're on because it will lead to the right place."
About Kharis Publishing:
Kharis Publishing, an imprint of Kharis Media LLC, is a leading Christian and inspirational book publisher based in Aurora, Chicago metropolitan area, Illinois. Our mission is two-fold: 1. Provide an innovative publishing platform for professionals, Christians, pastors, workplace leaders to tell their story and share in a book form what God has put in their hearts, with a focus on under-represented writers (including women and first-time authors); 2. Equip orphans in developing countries with literacy tools. That is why, for each book sold, the publisher channels some of the proceeds into providing books and computers to orphanages in developing countries so that these kids may learn to read, dream, and grow. For a limited time, Kharis Publishing is accepting unsolicited queries for nonfiction (Christian, self-help, memoirs, business, health and wellness) from qualified leaders, professionals, pastors, and ministers. Learn more at: https://kharispublishing.com/
Media Contact
Company Name: Kharis Media LLC
Contact Person: Rufus Philip
Email: Send Email
Phone: (630) 423-6309
City: Aurora, Chicago
State: IL
Country: United States
Website: https://kharispublishing.com/kp/product/blue-house/