Zhejiang feeling benefits of fiber-optic revolution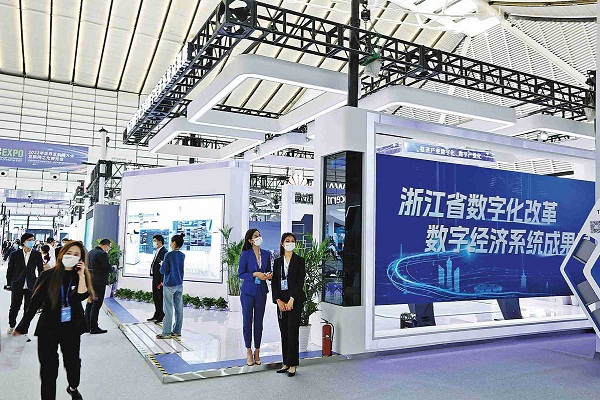 Host province Zhejiang showcases its achievements in digital economy and reform at the ongoing World Internet Conference Wuzhen Summit. Wang Jing / China Daily
Province enjoys economic boost thanks to flow of information allowed by tech
For this year's edition of the World Internet Conference Wuzhen Summit, the venues have been fitted with 40 optical cables that can deliver information at a speed of 10 gigabits per second, in addition to 5G signal coverage.
"In contrast with the first summit in 2014, this year's edition will make people understand profoundly what the flying speed of internet development is like," said Wang Gang, head of the Publicity Department of the Zhejiang Provincial Committee of the Communist Party of China.
By September, Zhejiang had 3.9 million kilometers of fiber-optic cables in use and more than 160,000 5G base stations in operation. Every administrative village in the province has access to the base station network.
"Chinese people often say 'building roads is the first step toward becoming rich'. In the digital era, such a road is what we call the 'Information Highway'," Wang said.
With improvements to such digital infrastructure, the flow of information has been leading that of technology, capital, talent and material supplies to rural areas, especially the province's 26 mountainous counties.
So far, 34 counties in Zhejiang have been listed as national demonstration counties for e-commerce development in rural areas, according to the provincial government.
In 2021, the central authorities gave Zhejiang the mission to build itself into a demonstration area for common prosperity.
To achieve common prosperity, experts think the country should tackle the disparity of development among regions and between urban and rural areas, as well as income disparities between people.
Article Source:http://www.ehangzhou.gov.cn/2022-11/11/c_282346.htm
Media Contact
Company Name: The Information Office of Hangzhou Municipal Government
Contact Person: Cai Jingwen
Email: Send Email
Phone: 0510-68559077
Country: China
Website: http://www.ehangzhou.gov.cn/