OBU Marketing Students Give Back to Local Insurance Company by Boosting Online Presence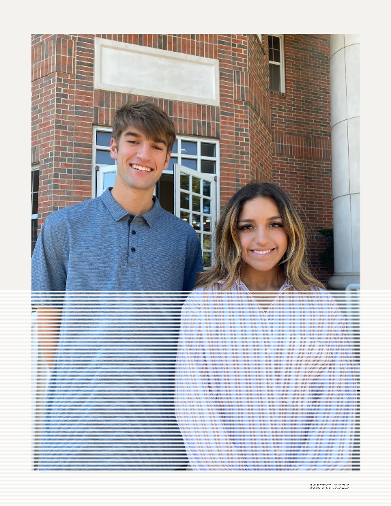 Shawnee and Oklahoma who are marketing students from Oklahoma Baptist University partnered with local insurance company, Insurance and Financial Design, to improve online presence and exposure. They gained valuable experience while working with their client. Through Dr. Daryl Green's Marketing Analytics and Intel class, they were able to give back to local small business owner, Julie Hokit. This better prepared them for real world scenarios outside of the classroom.
Students Graham Stiefel and Anadalight Vazquez worked alongside Julie Hokit from Shawnee, Oklahoma to help her local insurance business grow to greater potentials. Julie began her business during Summer 2020 and has slowly grown to become a successful and personable insurance company. Even though Julie launched during the pandemic, that did not hold her back from gaining traction towards a highly productive and successful small business. She offers a multitude of different types of insurances that best fit her clients. Graham said, "it was interesting being able to learn about Julie's business, and how insurance could be so diverse".
Julie strives to serve her community, and make her presence known. However, as an emerging business, getting exposure can be very difficult. Graham and Anadalight have stepped in, thanks to a great opportunity offered by Dr. Daryl Green. During this micro-internship, OBU students researched information to help Julie make her presence known. Throughout the semester, Graham and Anadalight learned the importance of marketing analytics. They were able to work with intel specialists to best serve Julie's needs. They managed specialists hired through FIVERR to boost important citations for her business, post numerous ads on social media, and launch Julie to the top of the Google search results. "Being able to help Julie achieve goals while learning about my future profession felt great. I learned so much from Dr. Green and Julie" stated Anadalight.
If you are looking to switch to a local insurance provider that will feel more at home, contact Julie Hokit with Insurance and Financial Design. Providing home, auto, life, and business insurance, they have anything to accommodate your needs and priorities. For more information visit https://insurance-financialdesign.com/.
Media Contact
Company Name: Insurance and Financial Design
Contact Person: Anadalight Vazquez
Email: Send Email
Country: United States
Website: https://insurance-financialdesign.com/